Climate change is serious business for the ski industry – without snow, there won't be much of an industry left.
It is one of the first industries to visibly suffer from climate change as there's less reliable snow in recent years. It foreshadows the impact that many industries will experience, such as tourism, hospitality and retail.
108 ski areas from around the U.S. have signed the Climate Declaration, which urges Congress to address climate change.
"A bold response to the climate challenge is one of America's greatest economic opportunities of the 21st century," it says.
If emissions continue on their current trajectory, many winter recreation areas are projected to become unsuitable for skiing or snowmobiling. The Northeast alone could lose $405 million to $810 million in annual skiing revenues.
"It is obvious that the success of ski business operations depends greatly on climate, which is why we are so invested in programs that keep our slopes sustainable. But our actions alone won't be enough without strong policies," says Brent Giles, chief sustainability officer for Powdr Corp of Utah, the parent company of Park City Mountain Resort in Utah, Copper Mountain in Colorado and Killington Resort in Vermont. "We welcome legislative and regulatory initiatives that will reduce carbon emissions, incentivize renewable energy development and help improve our resiliency in the future."
Jobs are also at stake with about 160,000 people employed by the industry. The National Ski Areas Association $12 billion industry in the US. Ski areas hosted about 56 million visits this winter.
Aspen Skiing Company has been addressing these issues for over a decade, including purchasing renewable energy.
A Massachusetts ski resort is running completely on wind and solar.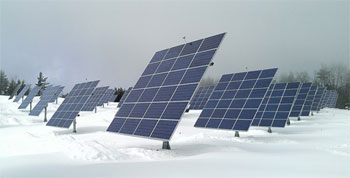 "Resorts have made tremendous efforts to raise awareness on the issue of climate change and to adjust our operations to reduce carbon emissions and manage resources efficiently. We need Washington to take those strategies seriously through stronger policies," says Jerry Blann, president of Jackson Hole Mountain Resort in Wyoming.
"This is an industry that cannot be off-shored, and they are calling for climate action here at home," says Anne Kelly, director of Ceres' Business for Innovative Climate and Energy Policy (BICEP), which created the Declaration. "Policymakers must realize that the old political paradigm of 'It's the environment or the economy; pick one' is a false choice. American businesses are ready to combat climate change, and policymakers should join them in leading the way."
In April, 33 major corporations sent the Climate Declaration to Congress including eBay, Nike, Intel, Adidas, Annie's, Organic Valley, Starbucks, Timberland, Levi Strauss, Ben & Jerry's, Jones Lang LaSalle, L'Oréal, Limited Brands, North Face, Timberland and Unilever.
The Climate Declaration says:
What made America great was taking a stand. Doing the things that are hard. And seizing opportunities. The very foundation of our country is based on fighting for our freedoms and ensuring the health and prosperity of our state, our community, and our families. Today those things are threatened by a changing climate that most scientists agree is being caused by air pollution.
We cannot risk our kids' futures on the false hope that the vast majority of scientists are wrong. But just as America rose to the great challenges of the past and came out stronger than ever, we have to confront this challenge, and we have to win.
And in doing this right, by saving money when we use less electricity, by saving money by driving a more efficient car, by choosing clean energy, by inventing new technologies that other countries buy, and creating jobs here at home, we will maintain our way of life and remain a true superpower in a competitive world.
In order to make this happen, however, there must be a coordinated effort to combat climate change – with America taking the lead here at home. Leading is what we've always done. And by working together, regardless of politics, we'll do it again.
Here is the list of ski areas that signed on:
(Visited 8,232 times, 4 visits today)