Just as a study was released pointing to the dangers of genetically engineered (GE) salmon, more supermarkets have announced they will not sell it.
Target says it won't stock GE fish, along with H-E-B chain (315 stores in Texas), Giant Eagle (387 stores in Pennsylvania, Ohio, West Virginia and Maryland) and Meijer (200 stores in the rust belt). They join 55 other food retailers that made earlier commitments, including Trader Joe's, Aldi, Whole Foods, Marsh and Hy-Vee.
The total comes to 59 retailers that have 4,662 grocery stores across the US.
The Food and Drug Administration (FDA) is expected to approve GE salmon and is in the finally stages of its "review." It has received almost 2 million comments opposing the first-ever genetically modified animal.
Most Americans say they won't eat GE fish and 91% want the FDA to disallow it on the market. At least 35 other GE fish species are under development, making FDA's decision an important precedent.
But since the fish won't be labeled, unless supermarkets commit not to carry it, people won't be able to tell the difference.
The question is, if it isn't labeled, how will supermarkets know whether they are buying GE fish? Especially given the amount of seafood fraud in the US?
Research Points to Environmental Damage
New research finds that GE salmon could become invasive species because they can breed with similar species such as wild brown trout.
GE salmon are bred to grow faster than wild salmon and researchers found that the offspring of cross-breeding eat much more food and much faster than wild fish, outcompeting wild fish for food.
Also, GE salmon are more likely to crossbreed with a variety of species which would quickly make them more pervasive if they escape fish farms.
The coalition of 30 nonprofits behind the campaign to stop GE fish are also asking restaurants, chefs and seafood companies to join the Pledge for GE-Free Seafood and publicly commit to not knowingly purchase or sell GE salmon or other GE seafood.
Read our article on GE salmon. The House passed legislation blocking the FDA from approving GE fish in 2011 but it didn't come to a vote in the Senate.
Greenpeace Report
In Greenpeace's annual report that ranks supermarkets on sustainable seafood policies, they report good progress this year.
Whole Foods ranked top in the nation, followed by Safeway, Trader Joe's, Wegmans, Harris Teeter and Target.
Whole Foods hasn't held the top spot since 2008, but it recaptured it this year by continuing to improve its overall practices.
Trader Joe's made a lot of progress, moving 13 places up the list because it instituted progressive sourcing policies, eliminating numerous "red list" fish (threatened or endangered) and began advocating politically for sustainable fish.
Walmart, #11, introduced responsibly sourced fish in over 3000 stores, such as albacore tuna caught using pole-and-line and skipjack caught without aggregating devices.
Universities also have sustainable seafood policies, such as Cornell and McDonald's serves certified fish in Europe in Filet-o-Fish sandwiches.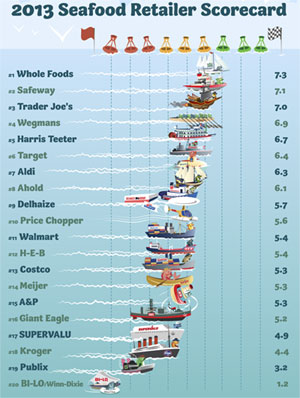 Here is Greenpeace's report, Carting Away the Oceans:
Website:
[sorry this link is no longer available]
(Visited 13,974 times, 2 visits today)