OneWind Australia plans to invest up to $2 billion to develop five wind farms in Australia which would total 1 gigawatt of capacity.
Glen Innes, a 100 megawatt (MW) project in New South Wales – the most densely populated state – will be first, coming online in 2015. The other projects are spread across the country, such as the 250 MW Lincoln Gap wind farm in South Australia and the 240 MW Cattle Hill development in Tasmania.
Glen Innes: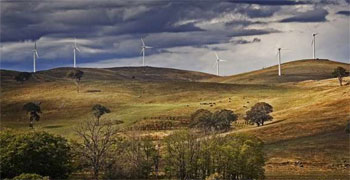 US private equity firm Denham Capital Management is investing $75 million, along with other investors experienced in wind development to form OneWind.
"Compared with other places in the world, wind is quite competitive in this
market," Managing Director Michael Toke told Bloomberg. "It's a combination of the competitiveness of wind and the
need for new renewables here. There's an opportunity to generate good returns."
Electricity from wind is cheaper in Australia than from a new coal or natural gas power plant. A new wind farm can supply energy at $83 per megawatt-hour (MWh) in contrast to $186 per MWh for a new coal plant and $119 per MWh for a new gas plant, according to Bloomberg New Energy Finance.
Those prices include the country's carbon tax, but even without that tax, wind energy is 14% cheaper than new coal and 18% cheaper than new gas.
Since 2011, wind energy prices have dropped 10%. In contrast, the cost of energy from new fossil fuel plants is high and rising, largely because of increased risks associated with financing their construction.
Still, renewables can't compete on price with old coal plants built in the 1970s and 1980s because their construction costs have now been depreciated. That's why policy support is necessary to encourage investments in renewables today.
China's largest coal producer, Shenhua Group, and Hydro Tasmania are also planning joint wind projects in Australia on a similar scale.
Australia's goal is to get 20% of electricity from renewables by 2020.
Smaller domestic wind developers have been looking outside Australia to grow because of uncertain policies for renewable energy. The current policy, which is quite favorable for renewables, will be reviewed next year.
Australia also has the most restrictive wind farm siting rules in the world, Roger Price, CEO of Windlab, told Fairfax News.
Windlab Systems is building two of the largest wind farms in South Africa, with a combined capacity of 226 MW – the country plans to add 1200 MW of wind capacity by 2015.
(Visited 3,651 times, 1 visits today)