After investing in Makani Power in 2006 and 2008, Google is acquiring the company, saying it could open the door to a radical new approach to wind energy.
It's actually being bought by Google X, the company's skunkworks lab, which develops breakthrough technologies to solve society's most difficult problems.
Based in Alameda, California, Makani Power is developing wind technology that can harness high-altitude winds to produce energy that's significantly cheaper than the least expensive coal plants without subsidies.
Its Airborne Wind Turbine produces twice the energy as a conventional turbine, by literally flying in the air like a kite on a small airplane.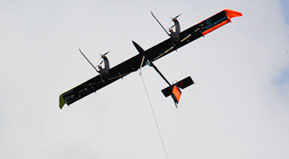 The Makani AWT is a tethered, autonomous wing fitted with onboard turbines for power generation. Flying at 1,000 feet, the system mimics the motion, and speed, of a conventional turbine's aerodynamically effective blade tips, says the company.
Wind turbines are mounted on small unmanned, fixed-wing aircraft tethered to the ground like a kite. A tethered wing is outfitted with turbines – air moves across the blades, forcing them to rotate, which drives a generator to produce electricity.
The wing flies across the wind in vertical circles, fixed to the ground by a flexible tether. It actually follows the same path as a conventional wind turbine's blades, but this larger path greatly enhances effectiveness.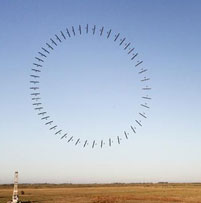 Also, the wing can fly much higher than a conventional turbine, giving it access to stronger, more consistent winds.
When it's not in flight, it is stowed on a perch. When wind reaches a certain speed, the device unfolds, positioning the wing for launch. Here's a simulation.
Makani is also developing a 600 kW airborne turbine for utility scale generation.
Since their Airborne turbine contains much less material than a conventional turbine (20 tons of material per MW), the company says it:
Eliminates the need for large foundries, forges and casting facilities
Greatly reduces the need for extreme load transportation to the site
Creates a shorter, more flexible local supply chain that scales rapidly.
It can also be used in greater range of situations, such as low-wind sites, offshore in shallow or deep water or geographies where it is difficult to site wind turbines.
Back in 2007, Google announced a new focus in addition to its main business – making renewable energy cheaper than coal.
It promised to invest hundreds of millions of dollars on technologies that can do that and Makani Power is one of those bets.
"This formalizes a long and productive relationship between our two companies,
and will provide Makani with the resources to accelerate our work
to make wind energy cost competitive with fossil fuels, says Makani. "The timing couldn't be better, as we completed the first ever
autonomous all-modes flight with our Wing 7 prototype last week.
"Our goal is to produce one gigawatt (GW) of renewable energy capacity that is cheaper than coal. We are optimistic this can be done in years, not decades," Google co-founder Larry Page said in 2007. 1 GW can power a city the size of San Francisco.
The Department of Energy ARPA-E program awarded Makani $3 million in 2010 and Google invested $15 million in two tranches.
"Makani Power's technology has opened the door to a radical new approach to wind energy. They've turned a technology that today involves hundreds of tons of steel and precious open space into a problem that can be solved with really intelligent software," Astro Teller, Google X's "Captain of Moonshots" told TechCrunch.
In a story on Google X, Bloomberg Newsweek describes it this way: "It is the search giant's factory for moonshots, those million-to-one scientific bets that require generous amounts of capital, massive leaps of faith, and a willingness to break things. Google X (the official spelling is Google [x]) is home to the self-driving car initiative and the Internet-connected eyeglasses, Google Glass, among other improbable projects."
In a time when funds for basic research are scarce, Google X is playing an important role in developing new technologies.
Learn more about Makani Power:
Website:
[sorry this link is no longer available]
(Visited 8,550 times, 74 visits today)