Kyocera's Green Curtains are a big hit and now the company is planting them every spring at offices in Japan and various parts of the world.
Foliage plants and vegetables are planted on trellises along walls, providing shade and reducing heat gain. Just having plants outside on walls lowers the indoor temperature inside about 3.6 degrees Fahrenheit during summer.
They are not only beautiful, but they produce food. Along with morning glory vines, vegetables such as bitter gourd, cucumbers and peas wind their way through the trellises. They are served in employee cafeterias and are also taken home.
And they also absorb carbon emissions: one square meter of foliage consumes 7.7 pounds of carbon a year. So far, Kyocera's curtains extend over 36,780 square feet.
Curtains can now be found at 28 sites in Japan, China, Thailand and Brazil. They will be extended to Kyocera's headquarters this year.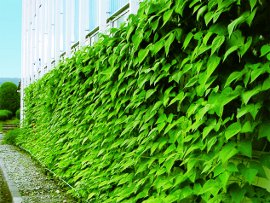 Learn how to create these curtains, which can also be grown at home:
(Visited 4,105 times, 4 visits today)