Amtrak is the latest train line that's converting to new generation locomotives, those that send energy back to the grid while substantially increasing their own efficiency.
70 new electric locomotives, Amtrak Cities Sprinters, will service the Northeast corridor starting this fall. They'll be added gradually until they are all in service in 2016, replacing locomotives that have operating for 25-35 years.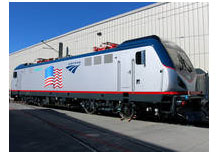 Amtrak's CEO, Joseph Boardman, calls it the rebirth of rail manufacturing in America," because almost all the parts are being made in the US. Siemens is manufacturing the locomotives at its Sacramento, California plant, which is powered by renewable energy. Parts are being supplied by about 70 suppliers across 23 states.
Amtrak Cities Sprinters will reach speeds up to 125 mph between Washington DC, New York and Boston and up to 110 mph from Philadelphia to Harrisburg, PA.
Greater energy efficiency is achieved by a regenerative braking system that can feed 100% of the energy it consumes back to the grid – about 5 megawatts. Like a hybrid car, the motor acts as a generator when braking, which could save about $300 million over 20 years, Siemens estimates.
Computers built into the locomotives can diagnose problems in real time and take corrective action, and "crumple zones" – cages built onto the front end of the train – can absorb impact from a collision. Another structure, an "anti-climber," prevents railcars from lifting off the tracks and hitting the top of the locomotive in an accident.
Siemens now makes about a third of North America's light-rail vehicles.

Amtrak had record revenues last year of $2 billion, carrying 31.2 million people. It has about 300 daily trains that connect 46 states and three Canadian Provinces. The organization has paid off much of its debt and relies less on federal subsidies now. Over the next 30 years, it plans to replace its entire fleet and power plants.
A $466 million federal loan will pay for these locomotives, which Amtrak plans to repay from profits from the Northeast Corridor line. Ridership on the line reached a record high last year for the ninth time in 10 years.
A condition of the Department of Transportation loan was that the majority of components would be US-made.
Los Angeles is taking a slightly different approach, using flywheels to capture the energy created through regenerative braking and using it for acceleration. Philadelphia is also using trains that send regenerative energy back to the grid.
(Visited 23,574 times, 8 visits today)