We've written about the future of buildings – that they are moving toward those that can adapt and breathe – and now we're seeing the beginnings of that.
An apartment building in Hamburg, Germany is giving us a peek into the future – it is covered with algae.
Not that algae is hanging on the façade, it's inside glass panels that also function as solar hot water collectors.
The 5-story Bio Intelligent Quotient (B.I.Q.) BIQ House, constructed to Passive House standards, gets all its energy from renewables. The addition of algae on the outside walls will be used to create biofuels to heat the building and also to provide shade and muffle street noise.
The technology is "an outstanding and important development in the use of renewable resources in building technology," comparable to advances in the space program, Lukas Verlage, managing director of the Colt Group, part of the consortium that designed it, told the NY Times.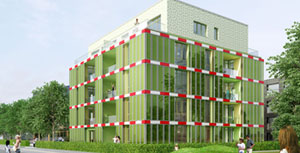 "Using algae as an in-house energy source might sound futuristic now, but probably will be established in 10 years," Rainer Müller told the NY Times. He's press officer for the International Building Exhibition, which introduced a competition in 2009 that led to the creation of the B.I.Q. house.
Entrants to the competition were asked to develop "systems and products that behave dynamically, unlike conventional building materials, which are static."
Micro-algae – tiny plants about the size of bacteria – are inside 129 bioreactors. They are continuously fed liquid nutrients and carbon dioxide and scrubbers inside the panels keep the glass clean. They double as solar hot water collectors, costing $6.58 million to build the façade.
Sunlight that's not absorbed by the algae is converted into heat. It can be used for hot water or stored in the geothermal system underground.
Periodically, the algae will be collected from the tanks and transported to a nearby biogas plant where it will produce electricity from the resulting methane gas.
Next year US-based Grow Energy plans to accept preorders for its Verde system, and hopes to get it to homeowners by 2015.
The system, which cultivates algae, can be mounted on the roof on wall of a home. It automatically dries and burns the algae to generate about 35% of a home's electricity for about $12,000.
Another "living" building is in Mexico, where the façade neutralizes surrounding air pollution.
Learn more about the Bio Intelligent Quotient (B.I.Q.) building:
(Visited 7,157 times, 20 visits today)