Australia has reached a milestone for solar – there are now over a million homes with solar on the roof!
That means solar is providing power to about 2.5 million people in the country – about 10% of the 23 million populace – and it's saving them about $500 million on energy bills, according to the country's Clean Energy Regulator.
The total is about 2.5 gigawatts (GW) of solar across 1,011,478 systems.
It's all the more remarkable given the short history of solar in Australia, really ramping up just a few years ago. In 2008, there were only 20,000 solar systems in Australia.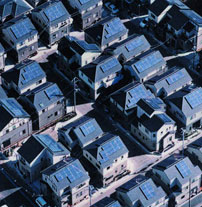 And the solar PV market could reach 10 GW in the next five years, reaching "saturation" levels for homes in many areas.
Growth has been most concentrated in the state of Queensland, where installations have risen from just 348 in 2007 to over 120,000.
Besides wanting to protect the environment, people are installing solar to guard against rising energy prices.
Like everywhere else, solar prices have dropped dramatically. It costs about $1,500 to $2,000 for 1500 kilowatts, a payback period of about four years.
"By 2013-14, solar panels will be so cheap that you'll coat every surface that has exposure to sunlight," says Professor Ray Wills, who advises the Australia's Sustainable Energy Association.
Over 8,000 Australians are employed by the solar industry, and all thanks to the country's target (and incentives) to get 20% of energy from renewables by 2020.
They are half way toward that target (mostly from hydro), which utilities are lobbying to lower. The country's largest solar plant recently came online – the 10 megawatt Greenough River Solar Farm. Not very big, but it's a start.
We've never seen a total for the US, does anyone know?
(Visited 7,749 times, 1 visits today)