Looking for insulation made from recycled jeans? We heard about this decades ago, but until now it's been hard to find.
It's now being offered at Home Depot and Lowe's in stores or online.
Cotton Inc's "From Blue to Green" initiative collects denim from a network of American clothing retailers, college student organizations, community groups, and others. Insulation maker Bonded Logic turns them into Ultratouch insulation, 90% recycled from denim and then donates it to Habitat.
UltraTouch Denim Insulation is made from 100% post-consumer blue jeans, without volatile organic chemicals or formaldehyde. It isn't itchy like fiberglass, but it costs more.
It takes about 500 jeans to insulate a house.
The company says the textile fibers' inherent qualities provide for extremely effective sound absorption and maximum thermal performance. It improves thermal performance 30-50%, the same R-Value as fiberglass. It's Energy Star-certified and qualifies for 12 LEED credits.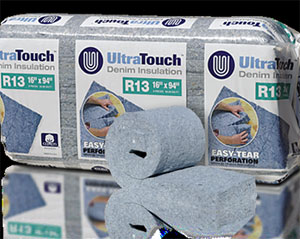 It's easy to install – batts can be sized by simply tearing along a perforation, similar to paper towels. They are attached with adhesive strips, which are included in the package.
Arizona-based Bonded Logic also makes UltraSonic Acoustic Panels from 80% recycled jeans, which absorb unwanted sounds in a home or business. The panels absorb about 85% of sonic energy, improving a room's sound quality, while eliminating echoes and reverberation. They can be removed and relocated without damaging walls.

Cotton, Inc. has a program that donates the insulation to organizations like Habitat for Humanity, where it's installed in the homes of victims of Hurricane Katrina and other natural disasters. They also offer grants to improve community buildings and partner with college and university campuses to host denim collection drives.
Over the past five years, 662,000 used denim jeans (and denim shirts, hats) have been turned into insulation for over 1300 Habitat for Humanity homes.
Here's how you can donate your old denim clothes:
Website:
[sorry this link is no longer available]
(Visited 9,132 times, 75 visits today)