Are you aware of an ingredient called carrageenan?
Even though this food additive is extracted from red seaweed, it's become so popular – used in thousands of food products – that the process to make it has become highly refined, and therefore may cause serious health issues.
Certified organic products are allowed to include this ingredient. You'd be hard-pressed to find organic soy milk that doesn't have carrageenan on the ingredient list, for example.
Carrageenan is an inexpensive way to add thickness and texture to products – it has no nutritional value. The same "mouthfeel" can be achieved by simply shaking a product.
The Cornucopia Institute has been working to eliminate carrageenan from allowable organic ingredients and has now formally requested the Food and Drug Administration (FDA) remove it from the US food supply.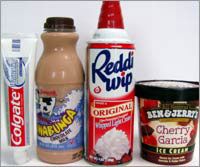 A raft of scientific studies link carrageenan to gastrointestinal inflammation, including colon cancer. In 2008, the FDA rejected a petition filed by Dr. Joanne Tobacman, a physician-researcher at the University of Illinois, Chicago College of Medicine, who has been studying food-grade carrageenan for more than a decade.
"The FDA's justification for denial was based on a sloppy and incomplete evaluation of available published research, and it was riddled with overt bias which appears to protect an industry's profits at the expense of public health," says Charlotte Vallaeys, of Cornucopia. "We have asked them to reevaluate."
"Carrageenan has a unique chemical structure, and research has shown it may trigger an innate immune response in the body,"
says Dr. Pradeep Dudeja, Professor of Physiology in Medicine at the University of Illinois, Chicago, who has co-authored nine studies on carrageenan.
"The immune response leads to inflammation, which is a serious public health concern since chronic, low-grade inflammation is a well-known precursor to more serious diseases, including heart disease, Alzheimer's, Parkinson's, diabetes and cancer," he adds.
Medical specialists in the US are taking these concerns seriously. Dr. Stephen Hanauer, MD, Chief of Gastroenterology, Hepatology and Nutrition at the University of Chicago School of Medicine, says: "The rising incidence and prevalence of ulcerative colitis across the globe is correlated with the increased consumption of processed foods, including products containing carrageenan."
Organic food companies Stonyfield Farm and Eden Foods have committed to removing the additive from their product lines, but other organic brands like Horizon and Silk (owned by conventional dairy company Dean Foods) will not. Instead, they dispute the science and insist that because carrageenan is "natural" it is safe.
"Natural does not mean safe," says Vallaeys. "Poison ivy is natural, but
you wouldn't put it in skin lotion. Given that carrageenan appears to do to
your gut what poison ivy does to your skin, we urge all companies to remove
this ingredient from the foods and beverages they sell."
Indeed, one of the major criticisms of food companies these days is their misuse of the word "natural," which leads people to think the foods they are buying are organic, when they're not. Sure, soy beans are "natural", but these days they take heavy does of pesticides and a majority are genetically modified.
Learn more and sign the petition to the FDA.
Find out which products don't contain the additive:
(Visited 101,522 times, 391 visits today)