Along with the price tag, the biggest barrier to electric car purchases continues to be range anxiety – the fear of running out of juice while you're driving.
Therefore, some car-makers are trying to spur sales of their electric cars by easing that anxiety. How? By giving them free access to conventional gas-powered cars when they need them for long trips.
Automakers have been offering a variety of incentives to help people get over the hump and go electric, such as free auto insurance, cheap leases and your basic price cuts and rebates. In addition to a $7,500 federal tax credit and state incentives up to $2,500, the price is pretty attractive, especially since people save about 40% of fuel costs when they drive an EV.
But that doesn't eliminate range anxiety.
Even though driving range is rarely a practical problem because on average people drive just 13 miles a day, it does get in the way for those few long trips, about 10% of all travel.
BMW, whose i3 electric car enters the US market this year, will come with a free loaner conventional car for trips that exceed its 80-100 mile range.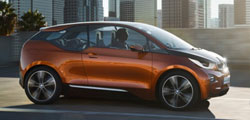 "We created a program to offer a loaner car alternative to eliminate that concern as a barrier. This way someone could feel comfortable about buying or leasing an i3 without feeling the need to own a second car," Dave Buchko of BMW told Edmunds.com.
Customers will also have the option of adding a gasoline generator to the i3 for about $4,000, which would double its range. The retail price for the i3 is estimated at $42,000-$48,000.
And Fiat is offering a free rental car (through Enterprise) for 12 days a year with the purchase of its 500e electric car.
After just three months of driving EVs, people have much less "range anxiety," but despite having to make few changes to their daily driving habits, they still want increased range.
Another innovative way of reducing range anxiety is a mobile app that brings crowdsourcing to EV charging.
Read the common misperceptions about electric cars.
(Visited 4,726 times, 11 visits today)