(Updated September 20)
Smith Electric Vehicles Corp. is withdrawing its plans for an initial public offering, citing its inability to raise the amount of money it needs.
The company will seek, instead, to raise more funds privately.
"We received significant interest from potential investors, however we were unable to complete a transaction at a valuation or size that would be in the best interests of our company and its existing shareholders," says Bryan Hansel, CEO of Smith Electric. "We have instead elected to pursue private financing to support the execution of our business plan."
The move comes less than a month after Smith Electric filed a revised IPO plan with the Securities and Exchange Commission. Under that plan, the company expected to raise $76
million from its IPO, considerably less than the $125 million it was aiming for
late last year, according to the company's recent SEC filing.
(Our story from mid-September picks up below.)
—–
Smith Electric, which hopes to trade under the symbol (SMTH),
makes electric vehicles for commercial usage. Its vans have been sold to the likes
of Frito-Lay, The Coca-Cola Co., FedEx, DHL, and the US military; it also makes an electric
school bus.
In its IPO filing, the Kansas City, Missouri-based
company proposes selling 4.22 million shares at $16-$18 per share. It plans to
register 5.1 million share in all, but hasn't given a data for when it plans to
go public.
The money will be used to help pay off certain debts,
including a $16.5 million bridge loan and a $1.3 million legal settlement
involving its British subsidiary, according to the papers filed with the SEC.
Although Smith Electric has negotiated some very
high-profile relationships, including a deal with Wanxiang (one of the largest
private companies in China) to supply commercial electric vehicles to that
market, it is unprofitable.
Last year, it reported a net loss of $52.5 million on
$49.9 million in revenue. That compares with a loss of $30.3 million on $35.6
million in sales for 2010.
The SEC filing acknowledges that Smith Electric will
continue to sell its vehicles at a loss through the last quarter of 2012, but
it hopes to begin turning a gross profit margin on sales starting in the first
quarter of 2013.
Another factor that will test investor confidence: The
company has reduced its production expectations for 2012 to just 380 vehicles,
instead of the 620 that it was initially planning. Those numbers are based on
its current backlog of about 444 vehicles, as of August 31, 2012.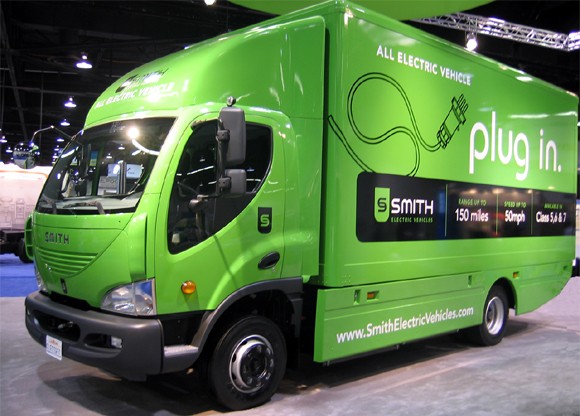 "Our growth has been constrained by our strategic
decision in the first quarter of 2012 to reduce our planned 2012 production in
order to focus on meeting the needs of our existing customers, our limited
cash, and significant near-term challenges we are working to overcome related
to introducing new technology products," says Smith Electric in its
amended filing.
The filing continues: "We believe that the most significant of these challenges
is the limited and under developed supply chain for many of the key components
used in commercial electric vehicles, including motors, control electronics
units and batteries. The current absence of a well-developed supply chain has
led to reliability and quality issues and high vehicle system and component
costs, which have resulted in high initial vehicle costs when compared to
diesel powered trucks of comparable GVWs, all of which impact customer
satisfaction and limit the broader adoption of commercial electric
vehicles."
Last year, Smith Electric raised about $58 million in
equity funding, one of the larger rounds of money focused on a cleantech
company.
The company would be the second EV player to go public,
after Tesla, which is focused on luxury models for consumers.
Smith Electric's two primary models include the Smith
Edison, a light-duty van sold in the UK and other markets, and the Smith
Newton, a step van that was designed for service routes of up to 120 miles.
For the amended Smith Electric IPO filing:
(Visited 7,111 times, 3 visits today)