A partnership between College of the Desert and the City of Palm Springs is creating a self-sustaining community college that showcases the potential of green building principles and prepares students for green careers.
The City of Palm Springs says they are aiming to establish a green economy and attract cleantechn companies to locate there, thus the emphasis on "green" at the new College.
In addition to green technology, the college will have programs in hospitality and tourism, health care, and media and communications. But principles of sustainability will be threaded through all of them.
Set to open in spring 2015, the 119-acre College of the Desert in Palm Desert, California, plans to achieve LEED Platinum certification and be net-zero energy and water.
Half the campus is earmarked for a 10 megawatt GreenPark, where a solar plant will be built by Southern California Edison. It will be operated commercially and have facilities for research and development, and teaching and learning. A Cleantech business incubation center is also planned.
Until then, solar will supply half the power, and is being installed on trellises three stories high that float over courtyards that also provide shade (as depicted in the image below). Solar panels will also be on rooftops and carports.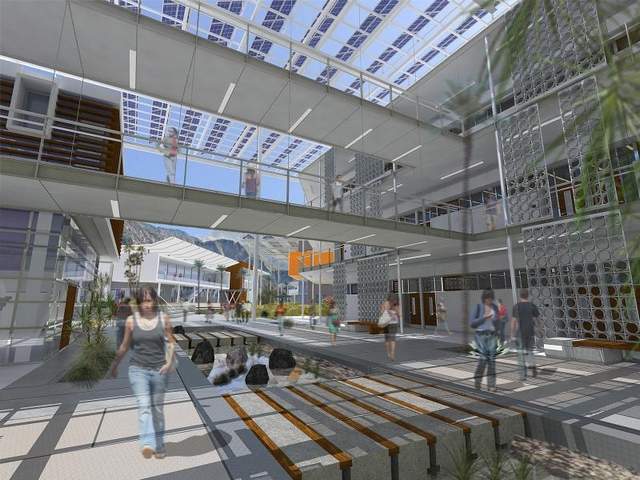 The site is being designed to use net-zero water use. For example, vacuum toilets, like the ones used on airplanes, will minimize water use. Solid waste will be recycled and used as an alternative fuel source.
Landscaping choices will be made with an eye toward desert, with water runoff on the site will used for irrigation. Composted food scraps will be used for vegetable and herb gardens.
The buildings in the first phase, representing about 50,000 square feet, will house green technology and culinary programs that administrators hope will draw businesses to the campus.
The college plans to focus on "greening" its curriculum in all program areas, such as sustainable business practices in the hospitality and tourism industries and healthcare.
Learn more:
(Visited 7,889 times, 4 visits today)