A new certification that enhances the built landscape is emerging – SITES guidelines aim to restore and enhance our urban "green infrastructure" – the web of soil and vegetation that manage storm water, clean and supply our water and air, conserve energy, recycle organic wastes and create livable towns and cities.
150 projects are participating in a 2-year pilot of the 2009 iteration, which will open to public certifcation next year. The certification applies to landscapes with and without buildings and uses a rating system similar to LEED, giving points for sustainable design, construction and maintenance of landscapes.
Farmland and wetland preservation, storm water, water conservation, air quality, climate protection, soil, vegetation, habitat and community are all addressed by SITES using an ecosystem services framework.
For example, it encourages establishing vegetation and soil protection zones to limit construction impact, creating a soil management plan to restore or protect the soil, restoring organic matter at construction sites, and panning for long-term site operations that include organics recycling and reuse.
Eight projects recently received certification as part of the two-year pilot. Here are a few of them:
Charlotte Brody Discovery Garden, Duke University
This demonstration center teaches school groups and families about how to apply sustainable landscaping ideas at home. Salvaged materials were used throughout and a cistern, a bioswale and a rain garden collect rainwater. It has organic vegetable gardens in raised beds, an orchard, bee hives, a compost bin and a "Food Forest" of native plants.
Cleveland's Public Garden
Demonstrates conservation practices that visitors can apply at home. It has a low-maintenance lawn that doesn't need weekly mowing, irrigation or fertilizer, a rain garden, native plants and a green roof that reduces energy costs and slows stormwater runoff.
Hunts Point Landing, Bronx, NY
This 1.5 acre urban project converted a roadway dead-ending at a debris-strewn river bank into a recreation area in a densely-populated part of New York City. Visitor can now bicycle, fish, kayak or enjoy the panoramic view. Among the sustainable features are recycled bridge stones and roadway materials used in the construction and habitat restoration and protection from storm winds provided by newly planted evergreens, flowering trees and shrubs.
Meadow Lake and the Main Parking Lot at Illinois' Morton Arboretum
This project turned a man-made retention lake with eroded banks into an attractive, natural-looking waterway with wetland plantings. Stormwater and water pollution controls were added to the main parking lot. Sustainable features include the first large-scale permeable parking lot installation in Illinois and a bioswale that captures and filters rainwater that would entered storm sewers.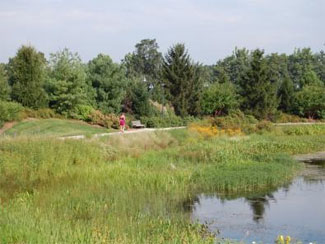 SITES is a partnership between the American Society of Landscape Architects, the Lady Bird Johnson Wildflower Center at University of Texas at Austin and the US Botanic Garden. The rating system is being developed by leading sustainability experts, scientists and design professionals.
"Perhaps the greatest impact of the two-year SITES pilot program has been the tremendous interest it has created among people who design, create and maintain landscapes of all types and sizes in creating outdoor spaces that use the benefits of nature – ecosystem services-to benefit people and the environment," says Susan Rieff, executive director of the Lady Bird Johnson Wildflower Center.
Here's the SITES website:
(Visited 7,531 times, 1 visits today)