New Jersey's largest utility wants $883 million for its next wave of solar development.
The proposal by Public Service Gas & Electric Co. (PSE&G) to expand its Solar 4 All program would create 233 megawatts (MW) of additional capacity, more than double the 80 MW constructed through an earlier phase of the utility's program.
PSE&G proposes to cover the costs through rate increases, so it will need permission from the state's utility commission to go ahead.
Under the plan, the utility would invest $690 million to develop 136 MW of grid-connected solar on landfills, brownfields and other underutilized properties; on warehouse roofs and on large parking lots.
It would also spend up to $193 million to support the third installment of its Solar Loan Program, which finances systems on homes and businesses throughout its territory. Through mid-July 2012, $177 million in financing has been made available under the earlier phase of this program supporting 735 installations and 55 MW of service capacity.
The total spent going forward depends on the price of solar renewable energy credits, says PSE&G. New legislation that requires generators to buy more RECs was signed into law in early July by New Jersey Governor Chris Christie.
If the proposal is approved, the next phase of the program would support another 97 MW of solar project construction.
"These proposals build on the success of our current programs," says Ralph Izzo, chairman, president and CEO of PSEG, which owns PSE&G. "We are poised to make these New Jersey investments that will create 300 construction jobs per year, provide significant business opportunities for our suppliers and advance the state's Energy Master Plan objectives."
New Jersey's Renewable Portfolio Standard requires utilities get 2.05% of electricity from solar by 2014 – up from less than 0.5% now – and 4.1% by 2028.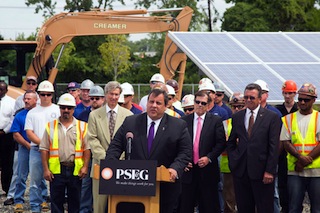 Izzo's comments came during a solar project groundbreaking Tuesday in Hackensack, New Jersey, at a site being developed under the first phase of the utility's program.
That phase, approved in 2009, granted PSE&G $515 million for installing small solar units on 200,000 utility poles in its service territory and for developing solar gardens and rooftop installations.
The Hackensack solar farm will have a generating capacity of 1.06 MW. To date, PSE&G has used the first phase of its development program to reclaim more than 40 acres of vacant brownfield and landfill space with about 40,000 solar panels that will generate more than 10 MWs of electricity.
New Jersey has approximately 775 MW of installed solar capacity, second only to California, and that number is expected to triple by 2020.
PSE&G's Solar 4 All program:
Website:
[sorry this link is no longer available]
(Visited 10,370 times, 3 visits today)