High-tech giant Fujitsu has developed an industry first – a technology that recycles plastic from used CDs and DVDs into notebook computers components.
Fujitsu's system not only processes recycled plastics, it also flags toxic chemical contaminants in the materials that are listed in the company's risk management database.
The process will eliminate about 10 tons a year of virgin plastic in Fujitsu's products and will cut carbon dioxide emissions associated with manufacturing by about 15% annually, says the company.
Raw materials (so to speak) are supplied by the company's five recycling centers across Japan, where it collects, disassembles, sorts and recycles personal computers and other consumer electronics technologies.
Because its difficult to get a uniform mixture from the wide assortment of plastics they collect, the company decided to focus on CDs and DVDs, which are often included with PCs and are available in predictable quantities.
"These optical discs are made from polycarbonate, a type of plastic suitable for use in the bodies of notebook PCs. Moreover, they don't include any contaminants, such as flame retardants, so they were deemed to be a suitable material for recycling," notes the company.
The first system to include the recycled plastic is the Fujitsu Lifebook P772/E notebook PC, released this summer. The front panel of the computer (pictured below) is made from the recycled plastic.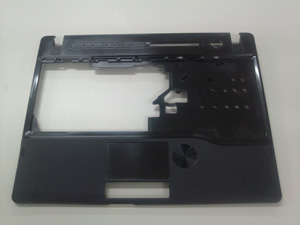 In the future, Fujitsu plans to expand the recycling process to other notebook computers and products.
(Visited 5,196 times, 2 visits today)