As farmers race to plant crops for biofuels they are destroying what's left of America's native prairies.

In fact, our grasslands are disappearing at rates comparable to deforestation in Brazil, Malaysia and Indonesia, concludes a study conducted at South Dakota State University.
Between 2006-2011, an astounding 1.3 million acres of US prairies were converted into corn and soybean fields to meet aggressive biofuel mandates. Those mandates have also driven up prices for those crops, making it even more attractive for farmers to plant them everywhere they can.
The rate was fastest in South Dakota and Iowa, with as much as 5 per cent of pasture becoming cropland each year.
Iowa and South Dakota are losing the most prairie - 5% a year. This chart shows the percentage of acreage converted from 2006-2011.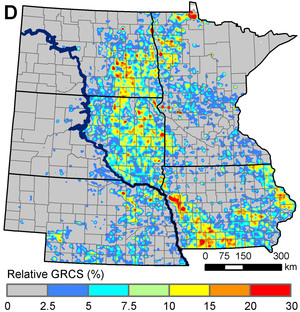 That's the biggest loss of prairie since the 1930s - the days of the devastating Dust Bowl - and the practice could have serious economic and environmental impacts, says the study.
Removing prairies in drought-prone areas like Nebraska, North Dakota and South Dakota, for example, and planting them with corn or soy, leaves the price tag with US taxpayers to cover any losses with federal crop insurance.
Of course, losing our prairie means disappearing wildlife habitats. Half of the ducks in North America breed in the Prairie Pothole Region across Minnesota and the Dakotas - and ground-nesting bird populations that need tall grasses for food and protection from predators, are crashing as cornfields encroach.
Grasslands also absorb carbon much better than croplands. Destroying them to grow fuel crops like corn ethanol or soy-based biodiesel erases any benefits of replacing petroleum-based fuels with biofuel.
A recent report (pdf) from the Environmental Working Group, for instance, argues that Congress should scale back crop insurance for farmers who move into the country's grasslands and wetlands.
This is just the latest evidence questioning the value of biofuels.