by Rona Fried
Glenn Youngkin has been governor of Virginia for three weeks and is already causing harm. He's Trump in Sheep's Clothing.
Even before taking office, he announced he would pull Virginia out of the Regional Greenhouse Gas Initiative (RGGI), the successful 10-state cap and trade program on the East Coast.
Now, he wants to confirm Andrew Wheeler as Secretary of Natural Resources in Virginia. Remember Andrew Wheeler? He's the Coal Lobbyist who ran the US Environmental Protection Agency (EPA) under Trump. His job was to destroy the agency (thousands of employees left), stifle scientists, and roll-back as many environmental regulations as possible. Let's hope Democrats – which still have a majority in the Virginia Senate – block his nomination. (update 2/9/22: Virginia Senate Democrats voted unanimously against Wheeler!)
Besides electing a Republican governor in the 2021 election, Republicans also won the majority in the Virginia House. They vow to roll back environmental legislation passed by Democrats, starting with the Clean Economy Act.
All this to supposedly save money on Virginians' energy bills.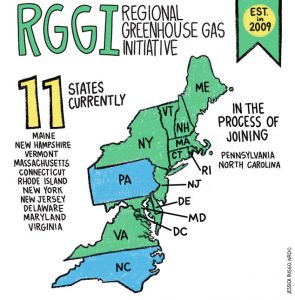 More on Pulling out of RGGI
Why does Youngkin want to pull out of the RGGI so badly? Virginia's biggest utility, Dominion Energy, asked him to. Under RGGI, a cap is placed on pollution. If a utility exceeds that cap, they have to pay.   
Youngkin says he just wants to save Virginians money, noting that the RGGI's "carbon tax is fully passed on to ratepayers."
What he fails to understand is that we have a Climate Emergency! The Northeast has cut emissions in half in just 12 years because of RGGI. The money utilities pay funds energy efficiency upgrades for low income residents, pays for renewable energy projects and helps communities cope with and become more resilient to flooding from climate change events. Last year, that added up to $228 million.
Youngkin can't remove Virginia from the RGGI by executive order because it was approved through legislation. So even though he hates regulations, he's directing the relevant state agency to withdraw through an emergency regulation.
If this is about "saving taxpayers money" Youngkin is definitely taking the wrong approach. How will he raise hundreds of millions of dollars each year without tax increases? How will Virginia pay for its desperately needed flood control projects?
Besides joining RGGI, the previous Democratic Governor joined 15 states and Washington DC in requiring trucks and buses to go electric.  Under the Agreement, Virginia's goal is for 30% of new trucks and buses to be zero-emission by 2030 and 100% by 2050. These vehicles produce over 30% of Virginia's transportation emissions.
What do you think will happen with that now that Youngkin is in charge? By the way, North Carolina ranks #4 among states most at-risk from climate change.
If you ever wonder why the US doesn't make much progress on climate change, it's because of this constant changing of hands.  New Jersey withdrew from RGGI when Republican Chris Christie was Governor and joined again when a Democrat took over. In Pennsylvania, Republicans, which control the legislature, have tried to prevent the state from joining RGGI (it joined in 2021), but can't because of the Democratic Governor's veto.
Trump's EPA
With Wheeler at his side, Trump managed to weaken or remove at least 100 regulations that protect Americans from pollution, pesticides and climate destruction, many of which have already been reversed under President Biden.
You may remember the uproar as the word "climate" was deleted across the EPA, from its website to scientific reports.  Trump's political appointees undermined federal studies, fired scientists and drove many experts to quit or retire.
As the Covid pandemic raged, Wheeler saw a golden opportunity – he announced the EPA would  completely stop enforcing environmental laws!
This was after receiving a letter from The American Petroleum Institute saying it didn't want to repair leaky equipment or monitor polluting wells during a pandemic. No problem!, said Wheeler. Those same polluting industries got billions of dollars in bailouts during the pandemic.
Throughout Wheeler's term, the EPA rarely enforced regulations on polluters. He loosened rules on mercury emissions and toxic ash from coal plants. He rescinded regulations that require oil and gas companies to capture methane. Climate change was no longer considered in environmental reviews for infrastructure projects.  He even changed the rules on how the EPA analyzes the cost-benefits of potential regulations to make it super-hard to implement any in the future.
Other nasty changes that have been reversed:
– restored the rights of states and Native American tribes to block pipelines and other energy projects that pollute lakes, streams, rivers and wetlands.
– banned the deadly pesticide dicamba after Trump's EPA approved it, intentionally ignoring scientific evidence
– rejected Trump's EPA rule that prevents it from limiting polluting industries' greenhouse gas emissions 
– re-instated Obama administration car and truck fuel efficiency standards.
Trump also despised energy efficiency. His Department of Energy refused to take energy-sucking lightbulbs off the market (planned for 2020), and ignored efficiency updates for dishwashers, clothes dryers and other appliances, leaving the Biden Administration with a huge backlog. They also played with the rules to make it near impossible to establish and update standards … which reduce emissions equivalent to closing about 20 coal-fired power plants.  
Under Biden, the Department of Energy no longer buries dozens of studies on the promise of renewable energy. Scientists are breathing again. No longer will their reports be deleted or edited to fit Trump's objectives. No longer will incompetent political hacks supervise their every move.
Trump even tried to change the very mission of our Forest Service, from managing the 193 million acres for ecosystems and recreation to oil, logging, mining and grazing sites!!!  Under Biden, we don't have an oil lobbyist in charge of public lands.
Please REMEMBER all this!!
++++
Rona Fried, Ph.D., is CEO of SustainableBusiness.com
(Visited 1,069 times, 205 visits today)