After the media widely reported the lock-down on environmental and other agencies, the Trump administration is taking it a step further … while publicly denying they took those steps.
Any scientific findings by the EPA will "likely face a case-by-case review by the Trump administration before being released to the public," EPA transition team spokesperson Doug Ericksen told Associated Press (AP). "We'll take a look at what's happening so that the voice coming from the EPA is one that's going to reflect the new administration."
At the moment, the transition team is "scrutinizing studies and data published by EPA scientists and all existing website content, including evidence of human-caused climate change," reports AP. No decision has been made yet on whether such data will be scrubbed. Everything is subject to review, even routine air and water pollution monitoring, says Ericksen.
Who's on the EPA transition team? It consists of 10 people from Koch-funded think tanks and fossil fuel lobbyists. For example, Charles Munoz, White House liaison for the team, helped set up the Koch-funded Americans for Prosperity chapter in Nevada. David Schnare is a lawyer at the conservative Energy & Environment Legal Institute, also funded by the Koch brothers' Donors Trust. George Sugiyama is chief counsel for the Senate's most notorious climate denier, Jim Inhofe (R-OK) and David Kreutzer is from the Heritage Foundation, also funded by the Koch's, reports Reuters.
"The level of mismanagement being exercised during this transition is startling and the impact on the public is alarming," former EPA regional head Jared Blumenfeld, told AP, comparing it to a "hostile takeover" in the corporate world.
Scientists Fight Back
In defiance of Trump, employees at Badlands National Park tweeted climate change facts – until they were deleted.
But now, there's a cascade of tweets, this time by an anonymous group of National Park Service employees. "We will not be identifying ourselves due to the anger and threats coming from President Trump's loyalists. We are here to push the science that is being dismantled by the current administration," an anonymous spokesperson told Washington Post.
AltUSNatParkService quickly gained 500,000 followers, followed by a legion of protest accounts, such as AltYosemiteNPS, AltYellowstoneNatPar, AltUSForestService, Resistance_NASA and Rogue NOAA.
This is just the start. Scientists are planning a huge rally of their own and a new group, 314 Action will help them run for office! Over 400 people have already signed up, such as Jacquelyn Gill, a climate scientist at University of Maine. "I always fantasized about serving an administration in an advisory capacity, but we now have explicitly anti-science people in office and in the Cabinet. Waiting passively for people to tap me for my expertise won't be enough," she told The Atlantic.
314 Action has over 80,000 donors and people committed to helping scientists run a winning campaign. It begins on March 14, with a webinar on how to run a successful political campaign, to be followed by mentoring of specific candidates.
Columbia Law School's Sabin Center for Climate Change Law is also helping out with its Climate Deregulation Tracker, which will catalogue every step the Trump administration takes to roll back or eliminate regulations related to climate change, renewable energy and energy efficiency. You can see every action the Transition Team has taken so far, from shutting down EPA's climate website to executive orders on the Keystone and DAPL pipelines.
Anonymous hotlines have been set up for National Oceanic and Atmospheric Administration employees so they can report political meddling.
The Real Reason to Dump Regulations
Dumping regulations on corporate polluters is not what Americans asked for when they voted for Trump. The latest poll shows that two-thirds of Americans want the EPA maintained or strengthened.

While Trump blames environmental regulations for hurting businesses, the reality is that this is one more way to line the pockets of super-rich polluters, while Americans pay the costs of their harm to society.
"… the moguls of the right-wing funding network, whose disciples are now in place across the Cabinet, hate environmental regulation with a passion. We know some of them – the Koch brothers, for instance. But there is a whole league of cartoonish villains, including John Menard, Jr., the richest man in Wisconsin, whose company was once charged with labeling arsenic-tainted mulch as "ideal for playgrounds." Having paid hundreds of millions in fines, these people paid tens of millions in campaign contributions, and now their bill has come due," says Bill McKibben in the New Yorker.
Environmental regulations don't come from nowhere. They come to counter corporate pollution. Our air and water was filthy before regulations were put in place and they will become that way again without them.
And it won't be easy to scrape the federal government of climate change policy. "The government apparatus of climate policy involves dozens of agencies and offices, as the chart below shows, and they spend billions of dollars a year. Their public activities number in the hundreds, from rules and scientific reports to research programs, webinars and internships. Thousands of employees, grant recipients and contractors are engaged in federal climate science, policy and communications," says InsideClimate News.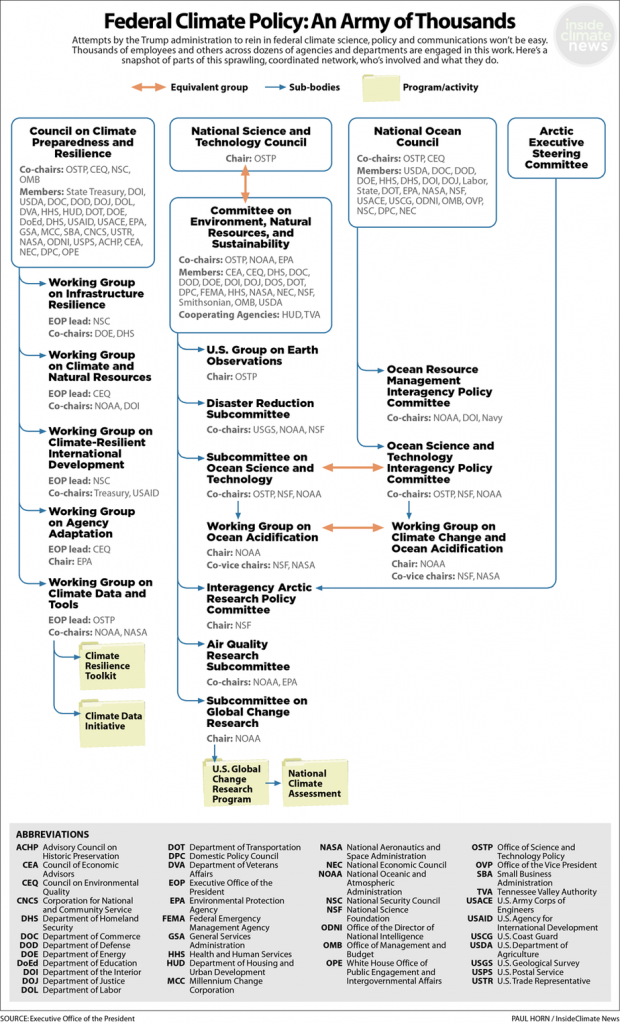 "During the Bush administration, scientists were slow to speak up against political interference. But today we are fully prepared and energized as never before to push back against assaults on science. Scientists around the country are ready to defend the scientific enterprise so that science can continue to provide the foundation for public health and environmental protections," says Andrew Rosenberg at the Union of Concerned Scientists..
(Visited 4,277 times, 43 visits today)