"Today, the world meets the moment. And if we follow through on the commitments that this agreement embodies, history may well judge it as a turning point for our planet."
These are President Obama's words as he annouced an event that will go down in history.
The Paris Climate Agreement officially goes into effect on November 4 because as of today, enough countries have ratified it. 
While 190 countries voted unamimously to pass the Agreement in April, to enter force at least 55 countries representing 55% of the world's emissions had to individually ratify it.  Among the 62 countries that have ratified it so far are the world's biggest polluters: the US and China – which together produce 40% of emissions – Brazil, India, in addition to the EU.
Obama makes the official announcement: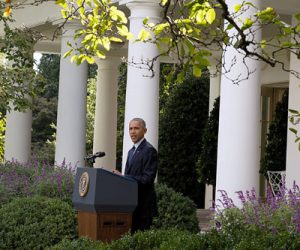 There is no question that President Obama's leadership has been crucial in getting to this agreement – elusive through decades-worth of Climate Summits. Unlike former president Bush – who refused to even sign the Kyoto Agreement – Obama successfully turned the process into a collaborative one, rather than the "you first" approach Bush took.
Under Bush, the conversation went like this: why should the US do anything about climate change when China and other emerging big polluters like India won't? If we pass laws and regulations on climate, that will hurt us in competiting with those that do nothing.
During that time, China took leadership on solar and wind, leaving the US in the dust.
Obama, on the other hand, extended his hand to China, India, Brazil and other countries, offering US leadership and commitment on addressing climate change. He offered the most aggressive targets he could in the face of Republican all-out obstruction, seen today as lawyers argue the case for our Clean Power Plan in court.
Both China and India responded in kind, making strong commitments to climate, which got the ball rolling for every country in the world to sign on. Even Saudi Arabia, Iraq, Syria and Yemen signed the Agreement.
And Obama made the biggest commitment to renewable energy in US history, making us a leader again, and creating hundreds of thousands of well-paying, ethical jobs.
Here's how the Paris Climate Agreement works.
Now the world shivers at the prospect of a major U-Turn if Trump is elected, whose promise is to tear up the Agreement on his first day in office. 
He (and his colleagues) will be going against an Agreement that entered force four years early – the official deadline is 2020. While Trump can't cancel an international Agreement, he can pull the US out, which would obviously be tragic for the deal.
"Trump's threat stimulated this rapid series of ratifications – China, the USA, Europe, and many others," Robert Stavins, director of the Harvard Project on Climate Agreements, told The Hill.
The surge to sign also reflects the obvious advance of climate change, much more evident than 10 years ago. Every country is experiencing life-threatening changes from extreme floods to droughts and wildfires. The Arctic, Greenland and Antarctica are melting faster than ever, with correspondingly higher predictions for sea level rise. Very warm oceans are killing off marine life and turning coral reefs into white graveyards.
To be able to sign the Agreement, the US had to insist that it be voluntary so that it didn't have to approved by our climate denying Republican majority in Congress. That's right – because of one US party, the entire world had to submit to US requirements.
Rather than the Agreement being "job-killing" and a "burden to businesses" as Republicans would like you to believe, it will lead to the greatest growth we've seen in many decades – at least $16.5 trillion will be deployed as countries implement their climate plans, says Standard & Poors.
In the next 15 years, the world's wind and solar capacity will double from China and India's ramp-up alone.
Meanwhile, many of the world's largest businesses are outspoken advocates for climate action and have committed to reach net-zero emissions in their businesses.
During 2014-2015, we saw – for the first time – world emissions begin to decline … and this happened while economies grew at the same time.
Obama says: "The Paris Agreement alone will not solve the climate crisis. Even if we meet every target embodied in the agreement, we'll only get to part of where we need to go. But make no mistake, this agreement will help delay or avoid some of the worst consequences of climate change. It will help other nations ratchet down their dangerous carbon emissions over time, and set bolder targets as technology advances, all under a strong system of transparency that allows each nation to evaluate the progress of all other nations. And by sending a signal that this is going to be our future — a clean energy future — it opens up the floodgates for businesses, and scientists, and engineers to unleash high-tech, low-carbon investment and innovation at a scale that we've never seen before. So this gives us the best possible shot to save the one planet we've got."
The next step is COP22, a Climate Summit in Morocco in November – the first official meeting for implementation of the Agreement.
Read our article, Good Signs Abound For Renewable Energy Worldwide, Tackling Climate Change.
Here are the impressive steps Obama has taken on climate:
https://www.whitehouse.gov/the-record/climate
(Visited 5,201 times, 32 visits today)