By the end of this year 2.1 million plug-in electric vehicles (EVs) will be on the world's roads, a turning point according to industry experts.
It better be because the latest research shows that our only chance to keep global temperatures from rising more than 1.5°C is for electric vehicles to completely replace combustion engines by 2035, says NewClimate Institute research. Half of all cars have to be zero emissions by 2050 to stay below 2°C , they say.
Writing On the Wall
By the mid-2020s, EVs are expected to hit their stride, becoming cheaper than conventional cars in most countries without subsidies.  With an average price under $22,000, EVs will reach 35% of global new car sales by 2040, says Bloomberg New Energy Finance.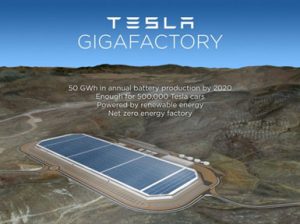 China is currently the largest market for electric cars, followed by the EU and then the US (both with about 500,000 cars on the road). Norway is the world leader where 23% of cars sold are electric, followed by the Netherlands, where EVs have a 10% market share, according to the International Energy Agency. Both countries are working on policies for all new cars to be electric by 2025. 
This week, Germany's Bundesrat (federal council) passed a resolution calling for an end to sales of new fossil vehicles by 2030, when only new cars that run on electricity or hydrogen would be allowed. And they want the ban to extend to the entire EU.
In April, India's Road Minister said the country will be the first "100% electric vehicle nation" by 2030.
So, the writing could be on the wall.
For China, EV manufacturing is a way to reduce pollution and to become a world leader in auto manufacturing by leapfrogging over conventional vehicles where it holds little market share.
Most important for the transition to EVs are rapidly falling prices for batteries – already 65% cheaper since 2010 and dropping 20% a year – and widespread access to charging stations.
The Nissan Leaf is the most popular EV, followed by the Tesla Model S, then Chinese firms BYD and Qin, and then GM's Chevy Volt, according to EV Volumes.
As for the major US auto manufacturers, they are investing in EVs, but they are selling so many gas guzzlers that they are trying to negotiate down the fuel economy standards they agreed to when President Obama bailed them out.
"Given changes in the market landscape, it will be a daunting challenge to meet the very aggressive requirements of the 2022-2025 federal fuel economy and greenhouse gas rule," says the Alliance of Automobile Manufacturers. "Absent a vigorous commitment to focus on marketplace realities, excessive regulatory costs could impact both consumers and the employees who produce these vehicles."
They make much bigger profits on gas guzzlers and that's where their focus is, not on selling EVs. Many dealers don't even have an EV on the lot and many salespeople don't discuss federal and state tax incentives that are available, according to Rev Up EVs, a study on the US EV shopping experience.
Policy Changes in US
In August, the EPA and Department of Transportation finalized the second phase of fuel economy standards for medium and heavy-duty trucks and buses.
These worst of the worst gas guzzlers get about 6 miles/ gallon, but by model year 2018, they will get 10-20% more. This next phase requires another 30% leap during model years 2021-2027.
Trucks and buses consume 25% of all the fuel used in the US even though they account for 7% of the vehicles on the road, according to Union of Concerned Scientists.
As for cars and light trucks, the fleet average must be 35.5 mpg by 2016 (which automakers are meeting) and 54.5 mpg by 2025. Automakers can't meet 2025 standards without selling lots of EVs.
In July, the White House announced up to $4.5 billion in loan guarantees to build out a national EV charging infrastructure. Plans include developing EV "charging corridors" across the country and research to develop extremely fast charging technology.  The Department of Energy also awards grants for development of advanced vehicles, such as electric trucks, buses and ferries, all of which are in varying stages of rollout.
There are now 16,000 charging stations across the US, all built since President Obama took  office. California and nine other states require 15% of car sales to be zero emissions by 2025. In June, US EV sales reached 1% of all new car sales.
Transportation is responsible for 27% of US greenhouse gas emissions.
"By mid-century, the practice of someone primarily driving himself or herself around town in a gasoline car will be as unusual as traveling by horse and buggy is today," says John Gartner at Navigant Research. "Instead, the combination and intersection of autonomous, shared, connected, and electric vehicle technologies will contribute to the gradual reduction of the number of cars on the road beginning in the 2030s that is already prompting automakers to expand to a variety of new mobility as a service business models."
Ubiquitous Koch Bros There to "Save" Fossil Fuels
The Koch Bros are behind a new PR campaign for fossil fuels, "Fueling U.S. Forward," which launched in August with a goal to spend $10 million a year.
They want to "rebrand" fossil fuels as the best choice for Americans and to convince them that electric vehicles are just big government forcing subsidies onto taxpayers … as they've been doing on renewable energy.
They point to how cheap gas is, forgetting to mention that it wasn't long ago that it cost over $4 a gallon. If we want to help people with lower incomes, they say, we should jettison clean energy and focus on coal, gas and oil.
Lobbyist and former head of the American Fuel and Petrochemical Manufacturers, Charlie Drevna, is heading the effort.
DeSmog has launched a counter-website to expose the individuals, organizations and tactics behind these senseless attacks on electric vehicles and renewable energy.
The Koch brothers pulled their strings behind the scenes until Greenpeace exposed them in 2010 for secretly spending over $88 million to deliberately confuse people about the scientific reality of climate change.
Read, Global EV Outlook 2016 by the International Energy Agency:
www.iea.org/publications/freepublications/publication/Global_EV_Outlook_2016.pdf
(Visited 7,075 times, 41 visits today)