Who would think a trade deal would inspire a nation-wide concert tour?!
Starting July 23 in Denver, you can listen to great music and speakers, all of whom want the Trans-Pacific Partnership (TPP) voted down. The free concert is at Summit Music Hall.

Rock Against the TPP is a nationwide concert tour to stop the biggest corporate power grab in history: the Trans-Pacific Partnership, says the website.
It's organized by legendary guitarist Tom Morello's new label, Firebrand Records, and Fight for the Future, an online group that's known for massive viral campaigns. The roadshow is designed to raise awareness of the dangers of TPP and build grassroots opposition to it.
Some of the performers are: Punk band Anti-Flag, hip-hop group Flobots, Downtown Boys and actress Evangeline Lilly.
They are calling the concerts large-scale educational events and there will be protests, teach-ins, and trainings.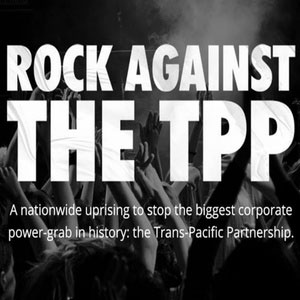 "The TPP is nothing short of a corporate takeover of our democracy. That's why people are rising up to stop it. Corporate lobbyists want to sneak the TPP through Congress quietly; that means it's time for us to get loud,"  says Tom Morello.
"This fight against the TPP is not about right and left, it's about right and wrong," says Evangeline Lilly. "Whatever you're passionate about, whether it's human rights, internet freedom, climate change, or food safety, the TPP is a bad deal for humanity, and a threat to the future of democracy. The more people learn about the TPP, the less they like it. It's our responsibility to sound the alarm, before it's too late."
Fight for the Future, with 1 million members, organized the largest online protests yet to protect free speech and privacy on the Internet. Morello's Firebrand label is dedicated to music that raises awareness and his new group is called Prophets of Rage. All the musicians participating are known for social justice activism. The roadshow is sponsored and co-organized by a coalition that includes Citizens Trade Campaign, CREDO, Demand Progress, International Labor Rights Forum, Public Citizen, Sierra Club, Communications Workers of America, and the Teamsters union.
Read our article, 2000 Groups Urge Congress to Reject TPP Trade Deal.
Here's the full lineup and tour dates: https://www.rockagainstthetpp.org/
(Visited 19,675 times, 7 visits today)