If you want to add a rooftop solar system to your home or finance energy efficiency upgrades, you can now do that through Fannie Mae and Freddie Mac at low interest rates.
Because solar prices are so low, more people want to buy their arrays rather than lease them. By owning your system you get a 30% federal tax credit and don't have the problem of transferring a solar lease to the next owner if you sell. It also increases the value of your home while greatly reducing electric bills.
Solar is the most economical choice for electricity in 42 of the 50 largest cities in the US and home buyers consistently pay about $15,000 more for homes with solar!
Read our article, Homeowners: Don't Consider Solar a Luxury.
Under Fannie Mae's HomeStyle Energy Mortgage, you can roll the costs of buying a solar system into a new mortgage, underwritten by many lenders. And you can include energy efficiency upgrades like insulation and new windows.
You can't finance more than 15% of what your home is worth, however, so if you want to spend more, consider Freddie Mac, where there's no cap. If you're interested, find a lender that's knowledgeable about these programs.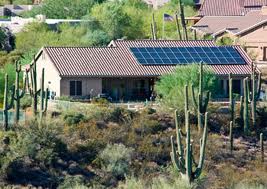 Last year, Fannie Mae began offering discount mortgages for multifamily green buildings that are LEED or Energy Star-certified. Fannie and Freddie also provide financing to make multifamily buildings more energy and water efficient. A HUD program (Housing and Urban Development Department) has a refinancing program to encourage energy upgrades in older affordable housing.
Read our article, With Solar Prices So Low, People Are Buying Systems, Not Leasing Them.
(Visited 21,637 times, 76 visits today)