Two big developments on the anti-fossil fuel front: oil companies have relinquished their leases to drill in the Arctic and a major coal export hub has been denied its permit in Washington.

Arctic Oil No More … For Now
After spending more $2.5 billion for the right to drill in the Arctic, Shell and ConocoPhillips quietly relinquished their leases, which allow them to explore or drill there.
Low oil prices are forcing companies to tighten their belts. Shell and ConocoPhillips pulled out the day before their "rent payment" was due, saving millions of dollars, reportsBloomberg. Statoil and Canada-based Iona Energy also cancelled leases and Shell dropped a lease near Norway as well.
About 80% of leases in the US Arctic have been nullified, totaling 2.2 million acres, in an area thought to contain 27 billion barrels of oil and 132 trillion cubic feet of natural gas. Only Spain's Respol SA is holding onto its lease for 535,586 acres, says Bloomberg.
The Interior Department cancelled this year's lease auction because of low interest but auctions are possible in five years under their plan.
Coal Exports Stymied in Washington State
After a five year fight, the Army Corps of Engineers rejected the permit needed to build the largest coal export terminal in North America – the proposed Gateway Pacific Terminal in Washington.
It was rejected because it violates the US treaty with the Lummi Nation, which protects their fisheries and ancestral lands. Members of Lummi are ecstatic because it is so rare that treaties are upheld.
Besides the climate impacts of exporting coal, the project would have destroyed one of the remaining pristine salmon runs – already under pressure – supporting the Lummi and wildlife for thousands of years.
About 1000 giant coal-laden ships would have passed through the Salish Sea and into Puget Sound each year, carrying 48 million tons of coal for export. To get there, coal trains would travel all the way from Wyoming's Powder River Basin, threatening the air and water all along the way.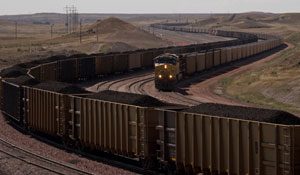 As all big fossil projects are now, the terminal has been plagued by delays because of community opposition, and Goldman Sachs pulled out as financial backer. The company behind the project, of course, says it will fight the decision.
Activists have stopped four of five such proposals since 2010, and the fifth may also be rejected. Over 400,000 comments have been filed by opponents and 15,000 people attended public hearings. The only ones left are the proposed Millennium Bulk Terminals in Longview and a terminal expansion in British Columbia.
But now, there are a proliferation of proposals for oil terminals, and the oil would also be transported by rail. If the remaining coal and oil terminals are approved, 30 trains would pass through communities every day.
At least 20 proposed mines, pipelines, fossil leases, LNG plants and export terminals have been canceled, rejected or delayed in the past six months, reports InsideClimate News, such as Oregon's Jordan Cove LNG plant and Pacific Connector Pipeline, and the NED and Constitution pipelinesin the Northeast. Portland, Oregon passed legislation banning any new fossil infrastructure and  Bankrupt Arch Coal dropped its bid to strip mine 1.6 billion tons of coal in Montana.
Not only are activists fighting every proposal, banks have finally stopped financing them as part of their climate commitments.
(Visited 4,145 times, 11 visits today)