Yet another group has formed to increase corporate use of renewable energy, Renewable Energy Buyers Alliance (REBA).
Years ago, Google set out to make it easier for companies to buy renewable energy from utilities, rather than having to build it on their own or sign long-term power purchase agreements with developers. Now, with Facebook, Microsoft and 58 other companies, they are challenging utilities to add 60 gigawatts by 2025.
Currently, each company has to negotiate separately with utilities to get the quantity of renewable energy they need at competitive prices. They have to deal with complicated contracts, complex negotiations and transaction costs.
In 2015, Google signed agreements for 842 megawatts (MW) of wind and solar energy in the US, Sweden and Chile, for example, and Microsoft wants data centers to run on 50% renewables by 2018, up from 44% now. 53 big companies are committed to 100% renewables.
Smaller companies don't have enough electricity demand to sign power purchase agreements with renewable energy developers, and opportunities for large companies are becoming hard to find. It's time to be able to buy directly from the grid.
"Access to clean energy is one aspect we look for when we site data centers. We're working with utilities and regulators to design new products so we can all buy more clean energy," Bill Weihl, Facebook's Sustainability Director told Bloomberg.
To address this, the World Resources Institute developed the Corporate Renewable Energy Strategy Map, which shows which states give them the ability to buy affordable renewable energy at the scale they need from the local utility. Companies can compare renewable energy options and available incentives.
Renewable Energy, The New Normal
REBA wants to make renewable energy the new "normal." Companies across the US want to power their operations with clean and renewable energy but navigating the path to renewables is harder than it should be. REBA exists to make the transition easier by helping companies understand the benefits of moving to renewables, connecting corporate demand to renewable energy supply, and helping utilities better understand and serve the needs of corporations, says the website.
A two-day sold-out conference took place last week, the 2016 Renewable Energy Buyers Alliance Summit. It was organized by REBA's founders: Business for Social Responsibility's Future of Internet Power, Rocky Mountain Institute's Business Renewables Center, and World Resources Institute and World Wildlife Fund's Corporate Renewable Energy Buyers' Principles.
Attendees ranged from tech giants to auto manufacturers and retailers like Walmart, along with utilities and renewable energy developers.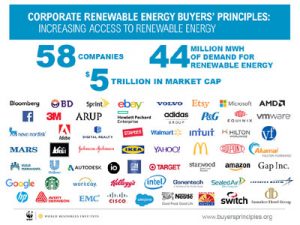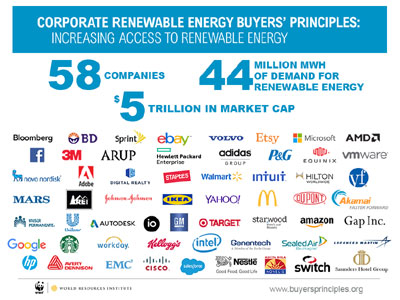 Last year, big corporations signed 52% (over 2 GW) of all wind power purchase agreements, more than utilities, according to the American Wind Energy Association (AWEA).
In fact, business customers are now driving the push for clean energy, not state mandates, says Nancy Popa at Michigan's utility, Consumers Energy. They are interviewing large customers "to better understand what they're looking for in a renewable energy program that will allow them to go up to 100% renewables, she told MiBiz.
Under Duke Energy's Green Source Rider program, large companies can sign 3-15-year contracts to buy renewable energy at the standard retail rate. Nevada's NV Energy allows customers to get 50% or 100% renewables if they consume at least 1 MW a year.
Read our article, Big Corporations To Utilities: Please Make It Easy to Buy Renewable Energy.
Here is REBA's website:
(Visited 12,586 times, 180 visits today)