Last week, activists cheered when Kinder Morgan cancelled the 419-mile NED natural gas pipeline planned from Pennsylvania to Boston and then, in more fantastic news, the 124-mile Constitution Pipeline was denied its permit.
NY State's Department of Environmental Conservation denied the Constitution Pipeline the water quality permit it needed to move forward.
Constitution Pipeline would have carried fracked gas from Pennsylvania through NY, where it meets up with pipelines that go to Canada, threatening some of NY's most treasured, protected areas – endangering 270 lakes, rivers and wetlands, clearcutting 1000 acres of forest. It would have been forced on countless landowners.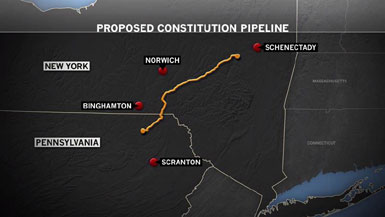 "Today's decision is further indication that we have finally begun to turn the corner on old dirty fossil fuels and take a step toward a clean and renewable future. The wisdom of the DEC, the leadership of Governor Cuomo, and the determination of New York's beautiful grassroots movement have come together to fight against greater fossil fuel proliferation and the catastrophe of climate change. This state continues to lead the nation by limiting fossil fuel infrastructure and making clean water, air, and food a priority," exclaims actor Mark Ruffalo, who serves as a Catskill Mountainkeeper trustee.
Developers say they will challenge NY's decision.
Across the US, activists are fighting every planned pipeline, LNG plant and fossil export infrastructure. Methane emissions are up over 30% since fracking began in earnest in the US.
In an interesting admission, a fracking executive mentioned during a recent seminar that they avoid drilling near big homes where wealthly people live, because they have the resources to fight back," reports the Pittsburgh Post-Gazette.
Under Governor Cuomo, NY State banned fracking, vetoed a LNG plant and is now blocking fracking infrastructure.
At the same time, NY raised its sights to 50% renewable energy by 2030 and is beginning to implement "Reforming the Energy Vision," hailed as the most aggressive policy in the country.
Read our article, New York State Says Goodbye to Coal, Hello To Green Economy.
(Visited 7,071 times, 20 visits today)