In February, the US passed a wonderful threshold as the millionth home was outfitted with a solar system.
"It took us 40 years to get to 1 million installations, and it will take us only two years to get to 2 million. This is a time to mark when the solar industry started to accelerate at warp speed," Dan Whitten at the Solar Energy Industries Association (SEIA), told Greentech Media.
Over 300,000 Americans will decide to install solar this year, predicts EnergySage.
Consider that in 2006, only about 30,000 homes had solar, and because of much lower prices, today's systems tend to be much larger, producing more electricity.
The US has 27 gigawatts (GW) of solar installed, an amazing increase from just 2 GW in 2010, and best of all, it has reached grid parity in 20 states. This year, solar is expected to grow an astounding 119%.
"When we look at what defines the next 1 million installs, it will be a much more geographically diverse landscape and a growing number of states seeing solar come on-line purely based on how cost-competitive it is," says Cory Honeyman of GTM Research.
Because so much large solar comes online this year, it will take a breath in 2017: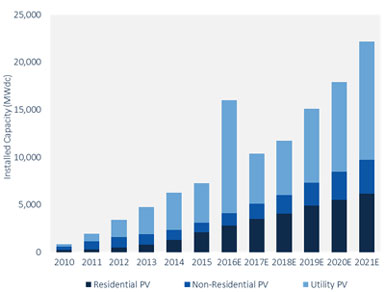 credit: GTM Research, SEIA
All this activity (plus large-scale solar) has resulted in expansion of the US solar manufacturing base. The US ranks #5 in the world for attracting solar manufacturers, according to a GTM Research report, Global PV Manufacturing Attractiveness Index 2015. As of November 2015, 209,000 people are employed by the US solar industry.
Farmers Benefit From Solar
Besides using solar for their own energy, which about 40,000 farms do, farmers are benefiting from leasing some of their land for solar arrays as an additional revenue source. The reliable revenue helps shield them from volatile prices and weather events. For many, it's the difference between being able to keep the farm in the family or having to sell it.
In North Carolina, for example, farmers can earn $300-$700 an acre, according to the NC Sustainable Energy Association, more than triple the average lease for crop and pasture land ($27-$102 an acre), according to the USDA.
Almost 1 GW of solar has been installed on North Carolina farms since 2013, on 7,000 acres, says NC Sustainable Energy Association.
For solar developers, farms offer flat, treeless land that has easy access to transmission lines.
In New York, solar companies have been blanketing farms with mailings offering leases for as much as $2000 an acre per year for 20 years, reports Associated Press. Farmers are banding together to make sure leases protect their interests. Indeed, the boom took people by surprise, and some towns have passed moratoriums to give them some time to consider the impacts.
(Visited 4,540 times, 15 visits today)