When India announced its jaw-dropping goal for solar would be 100 gigawatts (GW) by 2022, Energy Minister Piyush Goyal said it might even exceed that. Now he says they are soaring past it.
Including wind, the target is 175 GW. Renewables currently supply 13% of India's electricity, with about 36 GW installed (mostly wind and 5.7 GW of solar). The Ministry of New and Renewable Energy's plan is for solar to reach 17 GW this year, 48 GW by 2018-2019, and 100 GW by 2022. 40% will be rooftop solar and 60% will be medium and large-scale projects.
The land for solar clusters across India has been identified in advance.
Goyal released a 15-point plan, Report of the Technical Committee on Large Scale Integration of Renewable Energy. It covers essential details that can create a reliable grid by measures such as forecasting, scheduling, voltage control and having enough generation reserves. Goyal says it is "a game changing report which will set up unparalleled benchmarks in the world."
Hitting the 100 GW goal for solar also creates 1 million full-time jobs: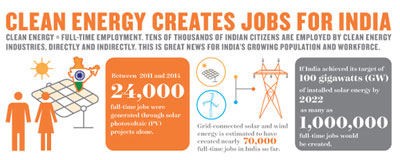 credit: Natural Resources Defense Council
Last year, India raised over $100 billion for the transition, far exceeding its goal of doing so over seven years.
"In early 2015, global financial markets were skeptical about whether good intentions and big promises could be turned into concrete actions. But today the figures speak for themselves, with well over $100 billion of firm commitments signed and sealed. This includes deals with state-owned enterprises, leading Indian power companies, a number of Indian billionaires new to the power sector and leading global renewable-energy firms and global utilities," says Tim Buckley, at the Institute for Energy Economics and Financial Analysis (IEEFA).
"India is executing one of the most radical energy sector transformations ever undertaken, and this year has shown that the flow of finance is matching the ambition," he says.
IEEFA details how India is doing it in the report, India's Electricity Sector Transformation, such as:
Four of the world's largest solar manufacturers plant to build solar manufacturing plants (Trina Solar, JA Solar, Hanwha Q CELLS, LONGi);
Top solar developers are accelerating project development (Sky Power of Canada, First Solar, SunPower);
Indian energy conglomerates are investing (Adani Power, Tata Power, Reliance Power) as are some of its top companies (Aditya Birla Group, the Dilip family, Bharti Enterprises, Jindal Steel & Power);
Global development banks and leading equity investors are providing financing (International Finance Corp, World Bank, KfW of Germany, Asia Development Bank, Abu Dhabi Investment Authority, GE, Goldman Sachs, Actis Capital).
India's biggest auto maker, Tata Motors, is transitioning to 100% renewable electricity.
China's Sany Group and Chint Group will invest a combined $5 billion by 2020; Germany pledged €1.5 billion, and France pledged €2 billion.
Four super-sized, gargantuan solar farms are moving forward: a 750 MW project; the 4 GW Sambhar Ultra Mega Green Solar Power Project; the 6 GW Dhirubhai Ambani Solar Park and a 10 GW project. 34 solar parks in 21 states are in various stages of being built.
India is also following through on its goal to become a world leader on renewables by providing free technical assistance to other developing countries.
Goyal says rich countries are giving "absolutely no support" to developing countries, and are charging too much for clean technologies, calling it "anti-development and anti the fight against climate change."
That came to a head when the US sued India through the World Trade Organization and won this year. The US took India to task for requiring some "Made in India" solar content in order to receive government subsidies, which supposedly makes it hard for international companies to compete. India is appealing the ruling.
Impact on Coal
Another finance mechanism for renewable energy and nuclear is India's coal tax, which it recently doubled.
Prakash Javadekar, India's Climate Minister, wants advanced nations to the same to fund the Green Climate Fund. Advanced nations have promised $100 billion a year by 2020 to help developing nations transition build low-carbon economies. It's been a major sticky point in international climate agreements. But it could easily be met through a $6 per ton tax on coal, he says.
Until renewable energy can supply enough power, India plans to keep adding coal plants, but with the steep drop in prices and financing costs for solar and wind, that could be changing. Goyal notes that solar electricity already costs less than that from a new coal plant.
Coal imports are down, and one of its largest utilities, Reliance Power, is dropping expansion plans for 10 GW of coal and gas. And it's looking to sell a 4 GW coal-fired power plant that came online at the start of this year.
Coal use is also threatened because it relies on so much water. Climate change-induced drought is becoming widespread in India, where there's not enough water to support both coal extraction and farming.
Read our article, Modi's Renewable Energy Revolution for India.
Read, The Great Water Grab, How the Coal Industry is Deepening the Global Water Crisis:
(Visited 216 times, 11 visits today)