The desire to leave some portion of this earth for wildlands and wildlife means a constant battle, and we just won a round in Alaska's pristine Tongass rainforest.
The US Supreme Court decided not to hear a case from the State of Alaska, which wants to open America's largest national forest to logging.
At 17 million acres, Tongass spans 500 miles of coast in southeast Alaska. It's a mix of deep fjords, thousands of islands, calving glaciers, alpine meadows and dense old-growth rainforest.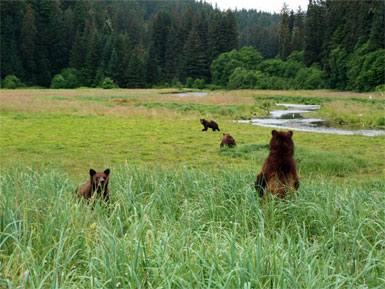 To keep wilderness wild, we have Roadless Rule in the US. Roads fragment ecosystems, making it impossible for many species to survive, and they encourage logging and other extractive development. Indeed, most of the largest, oldest trees were taken decades ago from the Tongass.
Alaska wants Tongass exempted from the Roadless Rule, and under the GW Bush administration, it got what it wanted. Thanks to conservation groups, that was overturned in court, so Alaska appealed to the Supreme Court.
Still Fighting
Logging can still occur in other parts of the forest where there are already roads.
"Wildlife can't take another 10 years of old-growth logging. In parts of the forest, some species need all the old-growth that remains just to survive," exhorts Tom Waldo, an attorney with Earthjustice, who has been in and out of court for 25 years trying to protect the Tongass.
Now, they are trying to convince the Forest Service to phase out old-growth logging everywhere in the Tongass now, not in 10 years.
Amazing how old ideologies hang on. It's not as if logging makes sense for taxpayers – it supports only about 100 jobs and loses $20 million a year, Waldo points out. Instead, the state's tourism industry is its economic powerhouse, and it depends on a vibrant Tongass ecosystem.
"Southeast Alaska has moved on. Clearcutting old-growth forests in the remote wildlands of our region, with expensive new logging roads no one can afford to maintain, is a thing of the past. We are pleased to see the Supreme Court put this issue to rest and call on the State of Alaska to do the same," says Buck Lindekugel, Attorney for the Southeast Alaska Conservation Council.
Attorneys from Earthjustice and Natural Resources Defense Council represented the following groups in the case: Organized Village of Kake, The Boat Company, Alaska Wilderness Recreation and Tourism Association, Southeast Alaska Conservation Council, Natural Resources Defense Council, Tongass Conservation Society, Greenpeace, Wrangell Resource Council, Center for Biological Diversity, Defenders of Wildlife, Cascadia Wildlands, and Sierra Club.
Long-Term View
25 years ago, it was impossible to convince the Forest Service that it shouldn't support logging, explains Waldo.
With every forest sale came new roads.
But even with the constant battles, the long-term effect is a change in public opinion.
"As we fought back, we helped create a roadless brand. Now, the idea of logging roadless areas is toxic to many people who realize how destructive it is, and how unacceptable to a large population," he says
Today, only fragments remain in much of the world's original forests. But in the Tongass, where vast tracts of primeval forests still exist, and all of the original wildlife species are still present, time is of the essence to quickly end large-scale old-growth logging.
(Visited 312 times, 48 visits today)