More than 2.5 million Americans now work in renewable energy, energy efficiency, clean vehicles and fuels.
That's more people than work in the coal mining, petroleum extraction, pipeline and railroad industries combined. And more people work in clean energy than in real estate or agriculture, says the report, Clean Jobs America.
569,000 people work in clean energy in the Midwest, as detailed in a separate report. California has about 500,000 jobs and Massachusetts has over 100,000.
"These are workers who install solar panels, manufacture electric vehicle parts, and retrofit our homes, schools and businesses to make them more energy efficient. They build wind turbine blades, invent battery technologies, and assemble the most energy-efficient kitchen
appliances on the planet," the report says.
Energy efficiency is by far the biggest job-creator, employing nearly 1.9 million Americans. Jobs range from manufacturing (efficient appliances, lighting, advanced materials, insulation) to conducting retrofits at homes and businesses.
Renewable Energy: 414,000 people, mostly in solar (300,000 includes part-time) and wind (77,000).
Advanced Vehicles: 170,000 jobs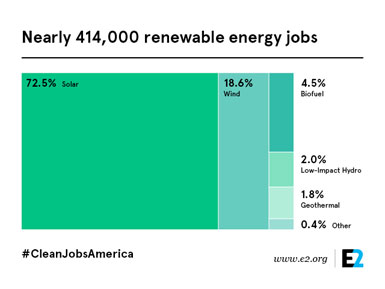 Separately, a Department of Energy (DOE) report, the US Energy and Employment Report comes to similar conclusions about employment numbers in efficiency, renewables and low carbon transportation.
In addition, about 30% of the 6.8 million employees in the construction industry work on energy or building energy efficiency projects.
Employers in energy efficiency expect to add about 260,000 new hires this year – a growth rate of 14% – and the solar industry expects a 15% hiring rate.
Over 70% of employers surveyed say it is "difficult or very difficult" to find employees with the skills they need, says DOE.
Find details on every state:
(Visited 23,688 times, 3 visits today)