Whether they like it or not, at some point the fossil fuel industry would be wise to invest in renewable energy.
Sadly, BP, Chevron and Shell used to be leaders in solar and wind, but they shed those businesses years ago because they couldn't possibly provide profits equal to oil. Given where oil prices are now, they may be wondering if they made the right decision.
Norway's Statoil, however, is an exception. Last year, it formed a renewable energy division, New Energy Solutions, which reports directly to the new CEO, Eldar Saetre. He says the company's role in addressing climate change will be a priority, and that climate change and a growing demand for clean energy are opening up new business opportunities.
Now, Statoil is launching Energy Ventures – a venture capital fund that will take minority stakes in renewable energy-related startups, such as efficiency, renewables, energy storage and smart grid. It will invest up to $20 million per company – about $200 million over the next five years or so, mostly in Europe and North America. It already has minor stakes in offshore wind projects.
Statoil's Hywind, a floating wind turbine, will be used in the world's first floating wind farm, off the coast of Scotland. Five will be installed by 2017 in waters 360-feet deep.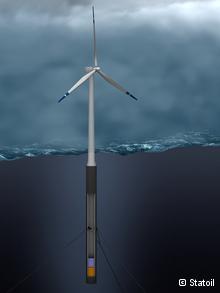 Statoil says this is one of the largest corporate venture funds dedicated to renewable energy. "The transition to a low carbon society creates business opportunities, and Statoil aims to drive profitable growth within this space," says Irene Rummelhoff, executive vice president for New Energy Solutions.
The company plans to "gradually complement its oil and gas portfolio with profitable renewable energy and low-carbon solutions."
Ahead of the Paris Climate Summit, Statoil joined other oil companies in calling for a carbon tax, mostly to boost their natural gas businesses.
It also participates in the Low Carbon Technology Partnerships Initiative, which aims to drive trillions of dollars into low-carbon investments.
(Visited 5,284 times, 19 visits today)