Nestled between Nepal and Bhutan is the small Indian state called Sikkim, where about 650,000 live.
The dramatic Himalayan landscape includes India's highest mountain and alpine meadows with thousands of wildflower species. Called one of the world's last utopias by legendary Buddhist guru Padmasambhava, it is living up to that reputation as India's first completely Organic state.
All of Sikkim's farmland is certified organic as of 2015, achieving "a model of development which also protects nature," says Prime Minister Modi.
After 12 years, the Sikkim Organic Mission is in place, with no use of pesticides, chemical fertilizers or GMOs, and committed to preserving its rare ecosystems and biodiversity.
Chief Minister Pawan Chamling began the process in 2003, with his declaration that Sikkim would be India's first organic state. Since he's been re-elected five times he's been able to see it through.
First, all sales of pesticides and synthetic fertilizers were banned, and farmers were taught how to transition to organic practices. Now, "Organic Tourism" has taken off with visitors staying at farming resorts.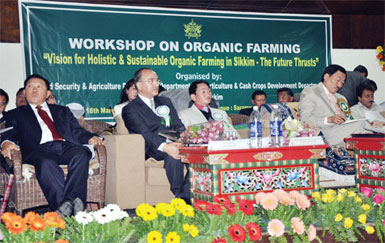 At this year's Sikkim Organic Festival, held January 18, Prime Minister Modi said this organic effort would now spread across the country.
Indian farmers have been devastated since GMOs were approved, with thousands committing suicide.
Next door, Bhutan is also going 100% organic by 2020, as part of its "Gross National Happiness" standard instead of Gross Domestic Product (GDP). The tiny island of Niue in the South Pacific has made the same commitment to organic agriculture.
Organic Worldwide
As of 2014 (most recent data), the world's organic industry reached $80 billion in sales and 108 million acres farmed, steadily increasing from $15.2 billion and 27 million acres in 1999.
The US remains the largest organic market by far with a 43% share ($39 billion in sales), growing 11% in 2014. Next comes Germany ($8.8 billion), France ($5.4 billion) and China ($4.1 billion), according to Organic Monitor.
There are roughly 2.3 million organic farmers in 172 countries, the majority in India (650,000), Uganda (190,550) and Mexico (169,700).
Australia has the most organic acreage at 42.5 million acres hectares, but 97% of it is used for grazing. Argentina ranks second with 7.7 million acres, followed by the US with 5.4 million acres.
Learn more about Sikkim's organic mission:
(Visited 5,339 times, 33 visits today)