Florida – land of sun but hardly any solar – is finally getting several large projects.
The state's dominant utility, Florida Power & Light (FPL) is building three solar farms, 74.5 megawatts (MW) each.
It got a great deal for 1 million solar panels, which is why it's building all three projects at once: Manatee Solar Energy Center (762 acres in Parrish); Citrus Solar Energy Center (841 acres in DeSoto County); Babock Ranch Solar Energy Center (440 acres in Charlotte County). They all have easy access to transmission lines and are all on land owned by FPL. They will be finished this year.
Currently, FPL has 110 MW of solar. It has installed solar at 100 schools, and is building systems at Palm Beach Zoo & Conservation Society, Broward Young At Art Museum & Library, Florida International University and Daytona International Speedway.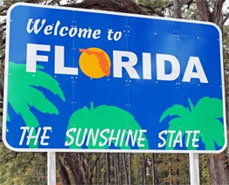 Florida has been struggling to add significant amounts of solar, weighed down by an anti-renewable energy governor and utilities dragging their feet. In 2014, because of utility lobbying, regulators voted to eliminate all solar incentives and cut utility energy efficiency programs 90%. FPL even got approval to charge customers $9 a month to fund construction of its solar projects.
It's a strange situation because FPL's renewable energy arm, NextEra Energy is one of the biggest solar and wind farm developers in the US.
Read our article, US Military, Home to Largest Solar Projects in Florida.
(Visited 5,601 times, 11 visits today)