Until now, South Korea has been the site of the world's largest fuel cell energy park, and now Connecticut has approved a slightly bigger one.
Passed unanimously by the Connecticut Siting Council, Beacon Falls Energy Park in New Britain will produce 63.3 megawatts (MW) of energy – both power and heating, 24 hours a day to 60,000 homes and businesses. South Korea's produces 59 MW.
FuelCell Energy (Nasdaq: FCEL) supplies and maintains the fuel cells at both parks, and plans to expand in Connecticut to 200 MW a year.
The company is headquartered in the state and employs about 600 people there. It has built 110 fuel cell plants in nine countries – all manufactured in Connecticut.
Construction starts later this year on a former gravel and sand mine, and comes online toward the end of 2019. Unfortunately, it runs on natural gas, which is considered "renewable energy" in Connecticut.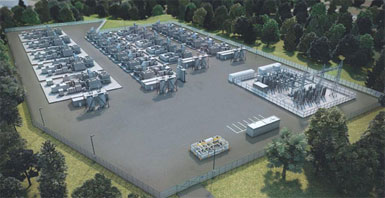 The US leads the fuel cell industry – which reached $2.2 billion in revenue in 2014 – because of supportive state policies and federal research, a growing domestic supply chain and technological innovation, says State of the States: Fuel Cells in America 2015.
California, Connecticut, and New York continue to lead as the states with most fuel cell installations, and Walmart, Google, Apple, eBay, Coca-Cola, Sysco, AT&T and Toyota are among the many companies that use them.
Read the report:
(Visited 119 times, 4 visits today)