If there's any good news about climate change, it's that we can still tackle it if we treat it as the emergency it is.
If renewable energy doubles by 2030, reaching 36% of the global energy mix, that will provide half the emissions cuts to keep temperature rise under 2°C, and energy efficiency can supply the other half, calculates the International Renewable Energy Agency (IRENA).
And as we've written about so many times, there would also be great economic benefits. Over 24 million jobs would be created and about 1.1% would be added to world GDP – about $1.3 trillion, according to IRENA's report, Renewable Energy Benefits: Measuring the Economics.
"This analysis provides compelling evidence that achieving the needed energy transition would not only mitigate climate change, but also stimulate the economy, improve human welfare and boost employment worldwide," says Adnan Amin, who heads IRENA.
Good Signs
And there are signs this is happening. Even with oil prices at record lows, investment in renewables rose to $329 billion last year – the highest levels ever, according to Bloomberg New Energy Finance (BNEF).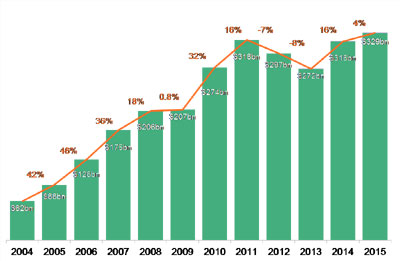 Worldwide, 64 gigawatts (GW) of wind and 57 GW of solar PV were commissioned in 2015, almost 30% more than the previous year. And this is without the leadership of Europe, where investments dropped to 2006 levels because of economic stagnation, says BNEF.
China spent close to the EU and US combined – a record $111 billion, up 17% from 2014. US spending also rose 7.5% to $56 billion, BNEF says.
Perhaps most importantly, more renewable energy is being installed than coal, natural gas, and oil combined.
"These figures are a stunning riposte to all those who expected clean energy investment to stall on falling oil and gas prices. They highlight the improving cost-competitiveness of solar and wind power," says Michael Liebreich, Chairman of BNEF.
"Wind and solar power are now being adopted in many developing countries as a natural and substantial part of the generation mix: they can be produced more cheaply than often high wholesale power prices; they reduce a country's exposure to expected future fossil fuel prices; and above all they can be built very quickly to meet unfulfilled demand for electricity. And it is very hard to see these trends going backwards, in the light of December's Paris Climate Agreement," he says.
(Visited 7,420 times, 9 visits today)