Update January 19: Two law firms filed a class-action lawsuit against Nevada utility NV Energy, alleging it provided false or incomplete information to regulators, violating the Nevada Deceptive Trade Practices Act and Nevada Unfair Trade Practices Act for its own enrichment at the expense of solar customers.
The lawsuit seeks restitution for "anticompetitive actions, deceptive and unfair trade practices resulting in a restraint of trade, monopolization and maintenance of a monopoly over the electric utility in Nevada, price discrimination between different buyers and artificial price inflation."
And the No Solar Tax PAC formed to get a referendum on the ballot to repeal Nevada's low net-metering rates and service charges.
—
While the US solar industry continues to boom, buoyed by the extension of federal tax incentives, it is still held back by utilities and states that hate change.
Too many states continue to dilute the incentives that drive homeowners and businesses to install solar systems – the opportunity to make money by sending excess electricity to the grid through net-metering.
Utilities don't like paying customers for the extra electricity because it impinges on their profits, and ALEC opposes net metering and any policy that furthers clean energy.
In 2014, Barclays downgraded the entire electric utility sector because of its stance toward solar.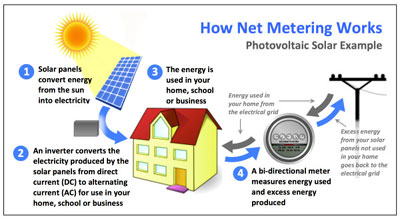 credit: Our Power Campaign
Spotlight's on Nevada
Although the situation is similar in many states, the spotlight is currently on Nevada, where a huge fight is underway. SolarCity is cutting more than 550 jobs and Sunrun is leaving the state altogether because of changes state regulators made in December to benefit utility NV Energy.
Starting January 1, the 17,255 customers who have solar systems must pay climbing monthly service charges while getting declining paybacks for excess energy they send to the grid. Instead of paying the retail rate for excess energy, utilities will pay two-thirds less as they switch to paying the wholesale rate, while monthly service charges rise to around $40 for the priveledge of hooking to the grid. And these changes will apply retroactively to all people that have solar systems – the first state to have the nerve to go that far.
This move "is particularly callous and leaves Nevadans to question whether the state would ever place the financial security of regular citizens above the financial interests of NV Energy," says SolarCity.
"It's simple math," says Bryan Miller, president of Alliance for Solar Choice. "The commission eliminated all solar savings. People now pay more for going solar rather than less. It has left companies no choice but to stop doing business in the state."
The Public Utilities Commission of Nevada also cut programs that increase energy efficiency, such as rebates for residential LED bulbs, solar hot water and appliances, and even recycling refrigerators.
The state still leads on incentives for big solar projects, however. Read our article, Nevada's Innovative Incentives Helping it Lead on Renewable Energy.
27 States Follow Similar Path
Leaders like California, New York and Vermont aren't going for it, but 27 states have enacted similar changes or are considering them, according to a report by NC Clean Energy Technology Center in North Carolina.
Arizona was the first state to impose monthly fees specifically for solar owners and since then solar adoption has dropped a whopping 95%, says SolarCity. The state is now looking at net-metering.
In Wisconsin, a judge recently ruled against raising such fees, citing the lack of evidence that they are justified.
Sunrun and the Alliance for Solar Choice filed the lawsuit and are challenging utilities in court across the country.
Solar owners still have to pay a monthly fee, however, and utilities won the right to pay less for net-metering.
In North Carolina – which has risen to the top for big solar projects – the right-wing legislature is still bent on keeping the industry down. They allowed the state's 35% renewable energy tax credit to expire at the end of 2015.
"The clean energy economy has been attacked repeatedly this legislative session, and more harmful legislation is still in play," says NC Sustainable Energy Association (NCSEA), noting a "well-funded misinformation campaign against clean energy."
North Carolina is the fourth state to surpass 1 gigawatt of installed solar, after California, Arizona and New Jersey. It generates $1.6 billion in revenue from 450 solar companies in the state, which employ over 4000 people, according to NCSEA. The tax incentive has been key to this growth.
Apple, Facebook and Google have all made huge solar investments in the state and Target installed solar at 30 stores in the state last year.
Strata, a major solar developer in the state, says opponents of renewable energy are spreading misinformation and residents are increasingly taking stands against solar projects based on flawed arguments and falsehoods.
FreeTheSun.org recently formed to pressure the Tennessee Valley Authority to stop blocking expansion of solar across the Southeast. TVA has cut incentives and placed arbitrary caps on how much solar individuals and businesses can produce, they say.
Read our article, North Carolina Symbolizes Tension of Old versus New Economy.
(Visited 7,317 times, 9 visits today)