This week we reported the great news for renewable energy – that investments hit record levels last year even with very low oil prices.
That's just the beginning, says Standard & Poor's (S&P) – at least $16.5 trillion is about to be deployed as countries implement the climate plans they committed to at COP21.
In the next 15 years, the world's wind and solar capacity could double from China and India's ramp-up alone.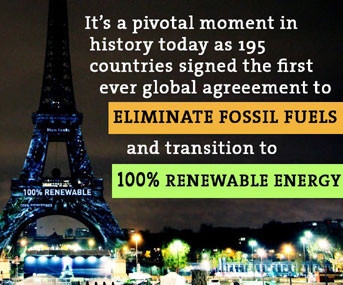 What's Happened Since Paris?

In the month since the Paris Climate Agreement, we're already seeing progress, notes Carl Pope, former Sierra Club Chair and now a sustainability consultant.
In the US, the Obama administration put a moratorium on coal leases on public lands and NY State announced it will close its last three coal plants.
Canada banned tanker traffic along the northern British Columbia coast, effectively blocking the proposed Northern Gateway Pipeline, leaving tar sands oil stranded.
China raised its coal consumption fee five-fold and says renewable energy will increase 21% this year, putting it on track to double it by 2020. It stopped passing ever-lower oil prices to consumers, keeping them consistent with $40 per barrel to make sure cheap oil doesn't encourage more consumption and emissions.
India announced much tougher emission requirements for coal-fired power plants and moved up stringent automobile pollution rules by four years.
Australia resumed support for wind energy.
Morocco announced a $40 billion investment in renewables and awarded the cheapest for wind anywhere – $.03 kWh.
The old economy also reared its head over the past month, with Australia permitting massive coal extraction and the UK dismantling incentives for renewables.
Beyond concrete actions, COP 21 has broad implications. "Many players in the commodities sector could become increasingly cautious about investments in high-cost, high-carbon projects, as these are the ones that are most vulnerable to stranding if carbon policies become more restrictive or resulting in softer demand," says S&P. And institutional investors and sovereign pension funds are already paying attention to fossil fuels in their portfolios.
Many of the world's largest businesses are now outspoken advocates for climate action and have committed to reach net-zero emissions in their businesses.
S&P calls for a price on carbon to accelerate the pressure to invest in low-carbon sources.
In other words, COP21 is the turning point we've been waiting for.
(Visited 7,352 times, 6 visits today)