Philips, the inventor of the compact flourescent bulb, and a long-time leader on sustainable business practices, will power all North America operations with wind by the end of 2016.
It is buying the output from Hidalgo Wind Farm in McCook, Texas over 15 years to power 133 locations. The 250 megawatt project is under construction by EDF Renewables.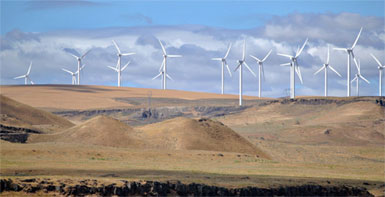 "Our power purchase agreement will allow a brand new wind farm to be built in Texas. Moreover, by offsetting our North American operations with renewable energy, we will reduce Philips' global carbon footprint by 8.6%, support the local economy and positively impact our bottom line, demonstrating the private sector can benefit from and help drive clean energy," says Brent Shafer, CEO of Philips North America.
Philips' goal is to be carbon neutral by 2020. It's a founding member of RE100, an effort to convince 100 of the world's largest businesses to run completely on renewable energy by 2020. Worldwide, Philips gets 55% of electricity from renewables, growing from just 8% six years ago.
Last year, Philips introduced "lighting as a service" with Washington DC as its first customer. It ranks at the top of all companies for sustainable practices by CDP and in the top 10 electronics companies by Greenpeace.
(Visited 13,210 times, 9 visits today)