As you probably know by now, a key compromise in the Omnibus Spending Bill exchanges 5 more years of renewable energy tax incentives for lifting the 40-year oil export ban.
"Selling off cheap oil abroad is like throwing gasoline on the fire," says Bill Moyers, referring to climate change.
There's no doubt this is bad policy – especially coming right after the Paris Climate Agreement. However, extending the tax credits for renewables will lower emissions more than lifting the crude export ban will raise them, according to Council on Foreign Relations.

A much better exchange (if we needed one at all) would have extended renewable energy incentives for the same number of years as crude oil exports (permanent) and fossil fuel subsidies (permanent).

But that isn't happening, so what does 5 years get us?
Importantly, it gives renewable energy companies and their investors the certainty they need to accelerate growth exponentially over the next five years. By that time, analysts widely agree that solar and wind will be fully competitive with fossil fuels without subsidies.
"This is massive. In the short term, the deal will speed the shift away from fossil fuels more than the Paris climate deal and more than Obama's Clean Power Plan that regulates coal plants," says Ethan Zindler, who heads US policy analysis at Bloomberg New Energy Finance (BNEF).
At a cost of $25 billion over five years, the tax credits will drive investments of $38 billion in solar and $35 billion in wind through 2021, further reducing costs and stimulating more investments that last after the incentives end, says BNEF.
In just 5 years, solar and wind will provide over 10% of US electricity.
What 5 More Years Means for Solar
The Solar Investment Tax Credit (ITC) is the main driver for growth in the US, giving homeowners, businesses and investors a 30% tax deduction on every system installed. If allowed to expire, the deduction would have dropped to 10% in 2017 and then to zero.
With the ITC in place, US solar capacity will increase 54% over the next five years – 25 gigawatts (GW) and $40 billion in investments more, according to GTM Research. Solar should reach 59 GW by 2021, says BNEF, doubling the number jobs to 420,000, says the Solar Energy Industries Association (SEIA).
And by 2020, the industry will be installing 20 GW a year – about the same as the entire US capacity now!
"The incentive, and long-term confidence that it will stay in place, will help unleash investment and reduce solar costs by another 40% in four years," says SEIA.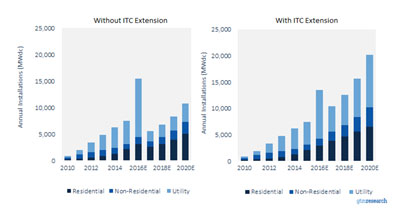 Residential installations are expected to grow 35% more than without the incentives, and commercial installations by 51%, says GTM.

Utility-scale solar will benefit the most, they say, increasing 73% through 2020. Prices for large-scale solar have dropped the most, and with incentives in place, long term electricity contracts will likely be under 4 cents per kilowatt-hour in the next two years.
Without the extension, only 6.5 GW of solar would be installed in 2017, estimates IHS Technology, having a huge negative impact on the supply chain and worldwide growth of the industry.
What 5 More Years Means for Wind
The PTC – the main driver for the US wind industry – bases tax credits on how much electricity wind farms produce during the first decade of operation. It also applies to geothermal and biomass projects.
Learn how the PTC works.

Since 2008, it has helped more than quadruple US wind power to 70 GW while costs dropped 66%, says the American Wind Energy Association (AWEA). With stable incentives, the US is on track to get 20% of electricity from wind by 2030 along with a vibrant manufacturing sector, for a total of 380,000 well-paying jobs.
The wind industry has installed 3.6 GW this year, and with incentives in place, we'll see this agressive level continue with another 44 GW installed by 2021, as opposed to 25 GW without the PTC, according to BNEF.
Without the PTC, growth would have crashed, not expected to pick up again until 2030, according to the International Energy Agency. As you can see below (in green), each time the PTC has been allowed to expire, the industry has fallen off a cliff.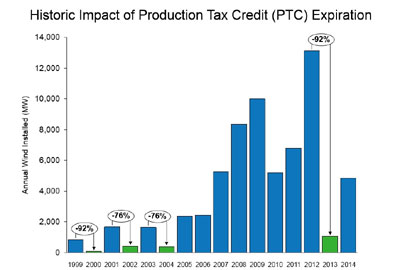 credit: AWEA
Offshore wind farms also get tax credits under the ITC, especially critical because the industry is so new and therefore expensive with long investment times.
In their haste to get the bill done, lawmakers forgot to include other forms of renewable energy as eligible for the ITC: geothermal, fuel cells, small wind, microturbines, and combined heat and power. Nancy Pelosi (D-CA) promises quick action on this in early 2016.
(Visited 9,891 times, 4 visits today)