There's still a lot more bad news than good on efforts to preserve what's left of our natural heritage, but here's some inspiring news.
Peru just approved the 3.3 million-acre Sierra del Divisor national park, preserving an area of the Amazon rainforest larger than Yosemite and Yellowstone National Parks combined. The final link in a 67 million-acre Andes-Amazon Conservation Corridor, it forms one of the largest contiguous protected areas in the Amazon.
"Sierra del Divisor is the final link in an immense protected area complex that extends for more than 1100 miles from the banks of the Amazon in Brazil to the snowy peaks of the Peruvian Andes," says Dr. Paul Salaman, CEO of Rainforest Trust. "After two decades of collaborating with CEDIA (Center for the Development of an Indigenous Amazon) to protect indigenous territories and establish nature reserves throughout Peru's Amazon, we have finally completed the centerpiece with the declaration of Sierra del Divisor National Park. This permanent conservation corridor is one of the greatest refuges for biodiversity on Earth."
As a national park, Sierra del Divisor, will receive greater protection from illegal logging, coca cultivation, and gold mining, which have been accerlerating in recent years.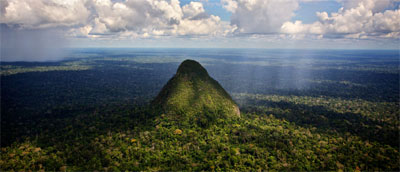 Amazingly, the corridor absorbs about a billion tons of carbon of year, equal to the emissions of all the vehicles on the road in the US. One of the richest areas of biodiversity left, it's a stronghold for primates, jaguars, tapirs, 300 species of fish, 500 species of birds, 80 kinds of amphibians and 3500 species of plants. It is home to the Iskonowa, an indigenous tribe that still lives in voluntary isolation.
CEDIA is working on protecting another 2.3 million acres to further bolster the Andes-Amazon Corridor, and providing indigenous groups with the technical and legal tools they need to fend off challenges from extractive industries.
Over the past 20 years, Rainforest Trust and CEDIA have protected the corridor by establishing land rights for hundreds of indigenous communities and by creating wildlife sanctuaries.
Peru's protected areas now cover over 51 million acres, almost 15% of its land.
Putting Indigenous Peoples in Charge
In Brazil's Amazon, deforestation rates are 11 times lower in forests where indigenous rights are protected, and rates soar where they are ignored. Across Latin America, Africa, and Asia recognizing these rights would keep 38 billion tons of carbon from entering the atmosphere, according to Securing Rights, Combating Climate Change, by the World Resources Institute.
In Peru, for example, the government allowed mining and oil and gas drilling on these lands, denuding much of the land. In Papua New Guinea, even though all forests are owned by indigenous groups, the government leases 4 million hectares to private companies, often for palm oil plantations.
In Europe, Bisons Are Back
Europe's largest land animal is back to over 5000 today, after being extinct in the wild in 1927.
"It is as important to Europe as the American bison for America, the Komodo dragon for Oceania, the polar bear for the Arctic, the gorilla for Africa or the giant panda and tigers for Asia," says Lukasz Mazurek, founder of Wild Poland.
From just 12 bison in zoos, conservationists meticulously bred them, building their population to the point where they could be returned to the wild. Today, they are found in nine countries from Germany to Russia.
Bison make it possible for other animals to return. "Several thousand smaller species depend on the structuring of vegetation by bison, their sand baths, tracks, manure, and carcasses," explains Wouter Helmer, Director of Rewilding Europe.
Even During War, Iraq Protects Garden of Eden Wetlands
Iraq's "Garden of Eden" wetlands – the world's biggest, most biodiverse wetlands – are now preserved as Wetlands of International Importance under the Ramsar Convention on Wetlands.
Also known as the "Cradle of Civilization," their history goes back to 4000 BC when the first literate societies appeared. The government is committed to fully restore the marshes after being drained by Saddam Hussein and literally turned into a dust bowl.
Nature Iraq has been doing gargantuan work to restore the 5500 square kilometer marshes.
India Makes Room for Tigers
Just 2500 tigers are left in the world, and the 400 in India's state of Karnataka are getting some more room to roam.
Over the years, the state's 22 protected areas have become small islands as human population boomed. Now, scientists and conservationists added 926 square miles for tigers by simply reclassifying existing protected areas.
While appropriating new land for national parks is very difficult, reclassifying how an area may be used is not. The team protected critical corridors that connect large natural areas, expanding the network by 29%.
In the US, Oysters Thrive in Chesapeake Bay
Over the past century, over 90% of the world's oyster reefs have been lost, including Louisiana's, the biggest in the US (thanks to Hurricane Katrina and BP's Gulf oil spill), but they are thriving in Chesapeake Bay.
Called the "great shellfish bay" by Native Americans, oysters play a vital role in Chesapeake's ecosystem, each filtering 50 gallons of water a day, while providing homes for organisms at the bottom of the food chain and encouraging bay grasses.
Overharvesting, pollution, and parasitic diseases caused oyster populations to plunge from 16 million bushels a year in the 1970s to just 26,000 in 2004. But now they are coming back. A new "super-oyster" resists disease, billions of dollars on the state and federal levels have cleaned up the Bay, and large sanctuaries protect oyster populations.
Under Governor O'Malley (now a Democratic Presidential candidate), oyster sanctuaries include entire rivers, rather than tiny sections in the least productive areas. The waters teem with oysters in these areas, cleaning the water, renewing habitat for fish, crabs and other species, reports Yale 360.

Read our article, A Conservation Story: Restoring Chesapeake Bay.
(Visited 4,777 times, 37 visits today)