Apple is following through on its commitment to run on 100% renewable energy for all its operations around the world, and just made good on that promise in China and Singapore.
Singapore-based solar developer Sunseap Group is selling Apple electricity from rooftop systems on more than 800 buildings – a total of 33 megawatts (MW).
In China, where Apple's footprint is enormous, Apple is embarking on a renewable energy-building binge with a goal of more than 2 gigawatts between its own projects and partnerships with suppliers. To start, Apple is building 200 MW of solar projects and manufacturing partner Foxconn is constructing double that by 2018. Foxconn committed to producing as much clean energy as it consumes at its Zhengzhou factory where final production of iPhone takes place.
That combined with a drive for energy efficiency in Apple's supply chain will supply all Apple's manufacturing and retail stores with more than enough clean energy.
Amazing how much energy one company uses, isn't it? Energy-intensive electronics manufacturing could consume as much as 2% of global electricity by 2017, and since much of the industry is based in China, it's critical that the sector moves away from coal quickly.
"Climate change is one of the great challenges of our time, and the time for action is now," says CEO Tim Cook. "The transition to a new green economy requires innovation, ambition and purpose. We believe passionately in leaving the world better than we found it and hope that many other suppliers, partners and other companies join us in this important effort."
Apple currently runs on 100% renewable energy in the US, and 87% worldwide, mostly on solar, but also wind, biogas, fuel cells, geothermal and small hydropower.
Apple is buying half the output of the California Flats Solar Project to power all operations in the state, including its extraordinary headquarters, which are encircled by solar: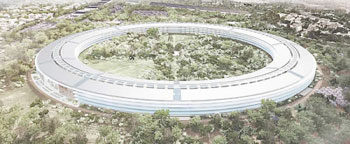 In the US, Apple ranks #4 among the biggest renewable energy users, according to the EPA: Intel, Microsoft, Kohl's, Apple, Google, Mars, City of Dallas, Starbucks, US Department of Energy, and City of Houston. Apple's position would likely be higher if buying Renewable Energy Credits (RECs) didn't count.
Gary Cook, Senior IT Sector Analyst for Greenpeace USA says: "Apple's announcement is a major step forward in building a renewably powered supply chain for its products. We have seen Apple lead the sector in building a renewably powered internet, and hope that Samsung, Microsoft, and other IT companies will follow their lead in manufacturing their cutting-edge devices with a 21st century energy supply."
Last month, 36 Major Corporations Committed to 100% Renewable Energy.
Read our article, Amazing Apple Tackles the Big One: 100% Renewable Energy Supply Chain.
Learn more about Apple's environmental efforts:
Website:
[sorry this link is no longer available]
(Visited 4,611 times, 17 visits today)