Surprisingly, Dallas ranks #1 this year on renewable energy use, followed by Houston, which was #1 last year, says the EPA.
EPA's ranking rates government use of green power. Other governments in the top five are District of Columbia, Montgomery County, Maryland, and Austin, Texas.
Municipal buildings in Dallas now run on 100% wind and Houston gets half its electricity from a mix of wind and solar.
When we look at the top 10 renewable energy users in the US, these cities are still on the list: Intel, Microsoft, Kohl's, Apple, Google, Mars, City of Dallas, Starbucks, US Department of Energy, and City of Houston.
Austin, Texas Contracts for More Solar
Once again, Austin will add a lot more solar, this time another 600 megawatts (MW) by the end of 2019. That's in addition to 118 MW approved this year and 150 MW last year, bringing it close to its goal of 35% renewable energy by 2020.
This exceeds the entire amount of solar in the state – 300 MW as of 2014, according to the Solar Energy Industries Association. The reason Texas has so little solar is because of a lack of incentives compared to other states, approving the first utility-scale solar projects just last year because of low prices.
Read our article, US Solar Production Underestimated – By Half!
But Texas Remains Top US Polluter
Texas leads the nation on wind energy, supplying 10.6% of its electricity, but it still burns lots of coal, gas and oil, maintaining its position as the biggest polluter among US states for the 24th consecutive year, according the US Energy Information Administration (EIA).
And pollution isn't going down. In 2013, Texas spewed more carbon emissions than since 2004 – almost double that of California. So did other states that are major fossil fuel producers – especially from fracking, which boomed that year.
Calculated per capita, top carbon emitting states are (in this order): Wyoming, North Dakota, West Virginia, Alaska and Louisiana.
And the lowest are (in this order): New York, Vermont and California.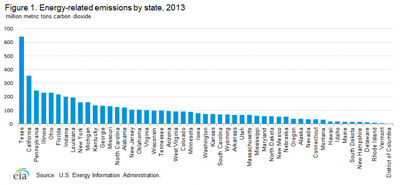 Between 1990-2013, Washington DC has driven down emissions the most – an impressive 36% – followed by Delaware, New York, Massachusetts and Maryland with declines of 17-24%. Nebraska's emissions grew the most at 28%, thanks to growth in ethanol which consumes a lot of natural gas.
Across the country, "the general trend is emissions are down and are stable," says Perry Lindstrom, EIA analyst. US emissions are down around 11% from the 2005 peak, with emissions falling in 37 states and rising in 13 between 1990-2013.
Here is EIA's analysis of state's emissions from 1990-2013:
(Visited 6,243 times, 22 visits today)