When we wrote about the spurious industry-funded forest certification, Sustainable Forestry Initiative (SFI), recently, they immediately fired back about how "diverse" they are. We simply compared them to the gold standard for well-managed forests, certification by Forest Stewardship Council.
Today we learned that Xerox, Starwood Hotels & Resorts, Delta Dental, and Bigelow Tea are the latest companies to cut ties with SFI. 27 major US brands have severed ties, according to ForestEthics, which has been campaigning for years on the subject. They have done so because "the logging industry-run program misleads consumers and allows massive clearcuts, other destructive logging, and human rights abuse," says ForestEthics.
"Xerox is no longer directly involved in paper sales or distribution in North America and will work with our suppliers to avoid using or promoting the Sustainable Forestry Initiative certification program," says the company.
"Starwood Hotels & Resorts Worldwide is committed to sustainability and works with suppliers who commit to sourcing environmentally responsible paper and fiber that meet only the highest forest protection standards. For materials containing virgin fiber, Starwood prefers using and promoting content certified by the Forestry Stewardship Council (FSC) and avoids using, promoting or referencing Sustainable Forestry Initiative."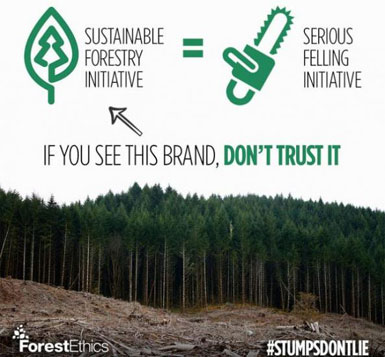 Other companies that have shifted to FSC are:
3M
Aetna
Allied Electronics
Allstate
AT&T
Comcast
Cricket Communications
Disney
Energizer
Garnet Hill
Hewlett-Packard
King Arthur Flour
Norm Thompson Outfitters
Office Depot
Performance Bicycles
Phillips Van Heusen
Pitney Bowes
Ruby Tuesday
Shutterfly
Southwest Airlines
Sprint
Stash Tea
State Farm
Symantec
United Stationers
US Airways (now part of American Airlines)
US Bank
According to ForestEthics, SFI certifies irresponsible and even illegal logging practices that have a disastrous impact on North American forests:
Clearcuts: the average clearcut approved by SFI is the size of 90 football fields. The damage to forests, water quality, and wildlife are often permanent.
Toxics: SFI allows excessive spraying of toxic pesticides, fungicides, and herbicides that poison fresh water, wildlife, and surrounding communities.
Forest Destruction: SFI actually promotes its program to loggers by saying it doesn't prohibit logging in old-growth forests or roadless wilderness areas.
Converts Forests to Plantations: SFI allows turning natural forest into ecologically barren industrial tree farms, including the use of genetically modified trees.
Violates Human Rights SFI labels can be applied to products made from forests cut without consultation of Indigenous People and in violation of legal and international human rights standards.
Only FSC-certified wood is allowed under LEED certification for buildings, and now the EPA has designated FSC as the certification system of choice for US government procurement, in "Recommendations of Specifications, Standards and Ecolabels."
Read our article, Market for Sustainable Products Expanding Rapidly.
(Visited 72,729 times, 115 visits today)