What a great idea!
In India, a train is criss-crossing the country to educate citizens about climate change.
The "Climate Change Science Express Train" will travel for seven months to make people aware of the consequences of global warming and the measures that can be taken on local and national levels to tackle it, reports India's Economic Times.
Calling it the "world's first mass education program on wheels, India's environment and climate change minister Prakash Javadekar says the train will stop at 64 locations in 20 states.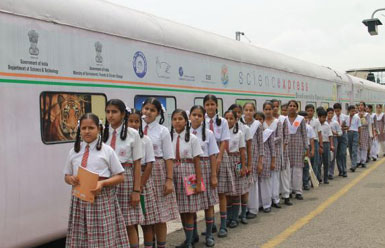 Open to visitors from 10AM to 5PM, exhibitions display the issues and challenges and what's necessary to deal with global warming through mitigation and adaptation. A training facility on the train will orient teachers, and activities are planned to engage various age groups.
Each train car (called "coaches") has a theme:
Coach 1 – Understanding Climate Change: The physical science behind the climate system and the fact that all of earth's systems are connected; and the industrial revolution as the cause of climate change.
Coach 2 – Impact of Climate Change: Introduction to the concept of ecosystem services, how global warming impacts ecosystems and what can be done about it.
Coach 3 – Adaptation: strategies and case studies.
Coach 4 – What India is doing on Adaptation: at the local, state and national levels, and international actions.
Coach 5 – Mitigation: understanding how balance can be restored by enhancing carbon sinks and reducing emissions through renewable energy technologies.
Coach 6 – What India is doing on Mitigation: local, state and national strategies, such as India's renewable energy goals, and how they are linked to international actions.
Coach 7 – International Negotiations on Climate Change: Introduction to how the process works – IPCC and the UN Climate Summit, with individual country pledges and internationally agreed action & targets; the concept of common but different responsibilities between advanced and developing nations; and other key outcomes of negotiations.
Coach 8 – What Individuals Can Do: at school, at home and in business, with a focus on lifestyle choices.
Other coaches have exhibits on Wildlife and Nature, and the conservation work being carried out by Indian research institutions to help tigers, turtles, amphibians, coral reefs, etc., and Science & Technology innovations and careers.
The 16-car Science Express Train – custom-built by Indian Railways for India's Department of Science & Technology, has been running since 2007 with various exhibits. It's received an overwhelmingly positive response – reaching 13.3 million people, primarily students and teachers, reports The Times of India.
Here's the website:
(Visited 2,730 times, 14 visits today)