The Obama Administration announced the "Smart Cities" Initiative yesterday to tackle the range of challenges facing cities – climate change, traffic congestion, fighting crime, fostering economic growth and improving delivery of city services.
The focus is on building an infrastructure that continuously improves collection, aggregation, and use of data that can improve the life of citizens.
The National Science Foundation and National Institute of Standards and Technology will create the research infrastructure for Smart Cities, and the Departments of Homeland Security, Energy, EPA, Transportation, and Commerce will develop solutions for safety, energy, climate preparedness, transportation and health.
20 cities will participate in multi-city collaborations between cities, universities and the private sector – the MetroLab Network.
formation of non-profit Envision America to accelerate innovative technology deployment for energy, water, waste, and air challenges.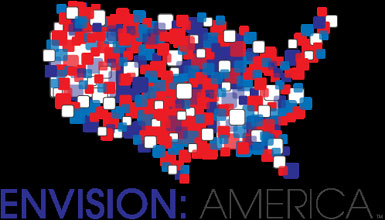 "Array of Things in Chicago," for example, will be the first network (500 nodes across the city) to serve as a testbed for rapidly deploying sensors, computing, and communications systems at scale in an urban environment. Sensors will continuously measure the physical environment block by block in the city.
The Department of Homeland Security is developing cutting-edge emergency response technologies for Smart Cities. Big data will be used to ensure first responders get the information they need at the right time, increasing their efficacy and safety.
The Department of Energy is creating a SMART Mobility consortium that conducts research on the energy-mobility nexus for future transportation systems: connected, automated vehicles; multi-modal transport; and integrated vehicle-fueling infrastructure systems. It will also advance smart building technologies that optimize performance and maximize energy efficiency within and between buildings and between buildings and the grid.
AT&T will select 10 cities to deploy technology for smart metering, lighting, traffic management, parking, and public safety.
IBM will help Detroit remove blight and build smarter Detroit neighborhoods: cost-efficient removal, recycling and re-use of debris from abandoned and neglected properties, allowing the city to use its limited resources to strategically invest in neighborhoods.
New York City will create neighborhood innovation labs in all five boroughs that accelerate testing and deployment of smart technologies. This is in addition to the state's Smart Cities hub in Albany.
Part of the climate agreement signed by China and the US last year is encouraging bilateral trade in green technologies and the launch of a Climate-Smart/Low-Carbon Cities Initiative. Japan and India are also moving forward on Smart Cities. And in Austria, Siemens and partners are creating a living lab that tests designs and systems for intelligent cities of the future. San Diego's smart city public-private collaboration aims to increase energy independence and adoption of electric vehicles. There's even a certification for smart cities under development.
Read more about the elements of the US Smart Cities Initiative:
Website:
[sorry this link is no longer available]
(Visited 6,149 times, 4 visits today)