This innovative company, Farmland LP, is open to accredited investors who want returns from expanding organic acreage in the US (but obviously, do your due diligence). Organic farming is crucial for peoples' health, biodiversity (such as supporting pollinators), and to reverse climate change. Demand for organic food keeps growing in the US, but acreage is way behind, forcing organic farmers to import many ingredients.
by Linda Richards
The challenge is clear and only intensifying with the rising demand for organic products: more organic farmers and more organic land are needed.
At the same time, older farmers are selling farmland, fueling a farmland real estate market that continues to grow. Investors have averaged returns of 12% over the last 20 years, according to the National Council of Real Estate Investment Fiduciaries.
A company called Farmland LP is using these market dynamics to offer a creative solution. Launched in 2009 and based in San Francisco, it owns over 7000 acres of farmland in California and Oregon. More than 1000 acres of that are certified organic, with the rest in transition.
The farms are professionally managed by Farmland LP, while 20 tenant farmers and ranchers lease cropland, livestock forage and on-farm facilities. One of these is Garret Mussi, a third-generation farmer in the Delta area east of San Francisco. For 50 years, his family leased the land that was recently sold to Farmland LP. The company worked out an agreement where he farmed a portion last year while the land transitioned to organic.
"I had been skeptical about organic but they asked us if we wanted to grow organic this year," says Mussi. After saying "yes" his family is one of the first to farm organically in the Delta, growing durum wheat, tomatoes and silage crops.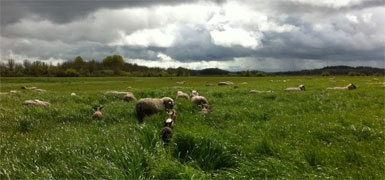 Sheep graze intensively for 1-3 days and then move to the next area of pasture. This "rotation intensive grazing" stimulates pasture growth and soil health while producing about 25% more meat per acre than conventional grazing, says Farmland LP.
The Vision
Jason Bradford co-launched the company with business partner Craig Wichner, a private equity investment manager long interested in agriculture.
Bradford grew up in Silicon Valley where he witnessed the conversion of Santa Clara Valley orchards to tract housing. Always a biology nut, he was fascinated by agriculture. After obtaining his doctorate, he launched his career, which includes co-founding the certified organic Brookside Farm in Willits, CA, and conducting research with Missouri Botanical Gardens. There, he began the Andes Biodiversity and Ecosystem Research Group (ABERG) – which studies biodiversity distribution and how ecosystems work.
This molded Bradford's thinking on the global need for a sustainable farming model. "Brookside Farm gave me a perspective on farming and the food system that encouraged me to think about the need to manage land and partner with farmers the way we do," he says.
Farmland LP is a B Corporation. Certified by non-profit B Lab, B Corps meet rigorous standards of social and environmental performance, accountability, and transparency in addition to making a profit.
Named to B Corp's "Best for the World" top 100 list the past two years, Farmland LP is also on Fast Company's list of the "World's 50 most Innovative Companies."
Open to accredited investors, Farmland has two funds. The first, established in 2009, is a limited partnership with a 30-year term, and the second fund, launched in late 2014, is a REIT that functions like a mutual fund for farmland.
Transitioning to Organic
Farmland's primary mission is to acquire and manage farmland near high demand organic markets.
"Many of our farmers sell to restaurants or through small distributors going to regional grocery chains and food coops. For example, in Oregon, Cattail Creek Lamb buys nearly all the lambs from our farms. Mosaic Farms is a small grower of pastured hogs that sells regionally," explains Bradford, who also oversees farm operations.
Delta farmer Mussi says the biggest benefit for him is having someone else deal with the three-year transition to organic.
Farmland's early acreage is near Corvallis, Oregon. Purchased from retiring farmers, it quickly transitioned to organic production, primarily by putting it into pasture for livestock grazing. "Now some of those early pastures are rotating into vegetables (winter squash, spinach, kale), which is very exciting for me as it fulfills a long term plan," says Bradford.
While continuing to add acreage, Bradford says the company's biggest challenge is continuing to transition the large acreage farmland. This is especially true in California, which came with legacy tenants, such as Mussi, who farmed conventionally. "It is a process to phase out conventional leases and bring in new tenants. In some cases, legacy tenants such as Mussi will convert to organic with us," he says, adding that much of the time is spent building relationships and ensuring that expectations are clear on all sides.
Vital Partnerships
Farmland prefers to buy significant blocks of land so that a diverse set of farmers can rotate from field to field to grow their specialized crop. Some Oregon farms have less than 100 acres, but are managed along nearby farmers with 1700 acres.
"A farmer growing grain and other seed crops may want a couple hundred acres or more within a few miles of others. If we are bringing on livestock, we need enough pasture to make it cost-effective for them to manage their stock," says Bradford. A small number of tenants need only 5-10 acres to expand vegetable acres or raise pastured hogs.
Working with stakeholders to make the farmland offer positive environmental assets is another mission. For example, they're working with the Oregon Watershed Enhancement Board to restore riparian forest and with the US Fish & Wildlife Service on endangered species recovery. As part of that effort, pollinator hedgerows are being planted with a grant from the National Resources Conservation Service.
Future Goals
In three years, Bradford hopes to complete all land purchases for the REIT fund. "In five years we plan to be well on our way towards organic certification on those lands." In 10 years, he forecasts, Farmland will be the top organic farmland manager in the country.
"Personally I am always seeking to learn and improve my ability to manage farmland with the agroecological principles I adhere to. I want to see it become more vibrant and productive with higher biodiversity, both native and domesticated, and stewarded by a host of talented farmers and ranchers earning right livelihoods," says Bradford.
++++
This article first appeared in OTA's Organic Report, Spring 2015.
Read our article, Nature's Path: Model for Organic Farming, about another company that's buying land for organic production. Iroquois Valley Farms, which invests in farms in the Midwest and mid-Atlantic, and the Carrot Project in Massachusetts and Vermont, may also be of interest to impact investors.
(Visited 279 times, 55 visits today)