Update, August 2: Terraform Global raised $675 million in its IPO, selling 45 million shares at $15 each.
—
Yesterday, we wrote about SunEdison's recent acquisition spree, buying up some of the biggest solar and wind developers in the world.
But that's not all. This week, SunEdison will launch another yieldco on the public markets – TerraForm Global (NASDAQ: GLBL). It plans to raise $1.1 billion in the IPO with shares in the $19-$21 range.
Its first yieldco, TerraForm Power, (Nasdaq: TERP) will contain most of SunEdison's operating renewable energy portfolio, while TerraForm Global focuses on emerging markets: India, China, South Africa, Nicaragua, Honduras, Costa Rica, Thailand, Malaysia, Uruguay, Brazil, Chile and Peru.
The 100 MW Amanacer Solar Farm in Chile is the largest in Latin America: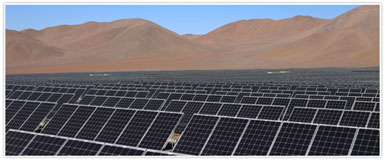 The portfolio includes mostly solar and wind, and some hydropower in Brazil and Peru – a total of 1.4 GW, producing $235 million in cash for distribution by the end of next year, says SunEdison.
TerraForm Global recently raised $175 million for financing projects in emerging growth markets.
Since TerraForm Power went public exactly a year ago, it's up 48% with a dividend yield of 3.3%.
(Visited 42,695 times, 3 visits today)