We've written a lot about the fact that electricity from solar and wind are now often priced less than natural gas – and now, a study predicts the same in short order for offshore wind.
In the UK – which leads the world on offshore wind – electricity could be the same or even lower than from new natural gas power plants by 2020, according to Offshore Wind: Delivering More for Less.
The government's goal is to bring prices down to under $155 per megawatt-hour by then, and the report shows the industry can do even better.
London Array, UK: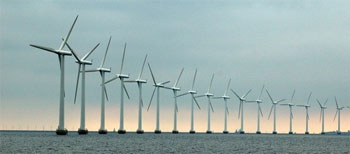 "Real, tangible advances in technology, the supply chain, and policy have combined to drive down the cost of energy for projects about to go into construction in 2015. This downward pressure is expected to continue, with offshore wind projects going into construction in five years that are competitive with new CCGT (combined cycle gas turbine) plants," the report says.
And by replacing existing offshore turbines with much larger, new ones during the 2020s, electricity prices will fall below combined cycle gas plants.
To bring this to fruition, however, requires stable, supportive government policies over the next five years. While the UK touts its support, the industry isn't confident the funds will be there to get them through the next five years.
There are 74 offshore wind farms in Europe – a total of 8 gigawatts installed, according to the European Wind Energy Association. It's expected to grow to 30 GW by 2020, according to Bloomberg New Energy Finance.
Read our articles, UK Approves 5 Offshore Wind Projects, Powering 3 Million Homes and Wind Energy Supplies 7.3% of World Electricity In Four Years.
Read the study, Offshore Wind: Delivering More for Less:
(Visited 52,655 times, 5 visits today)