Facebook announced a new goal and a new data center and both are great news for renewable energy.
Its new goal is that all data centers combined will run on 50% renewable energy by the end of 2018, and the next one – in Fort Worth, Texas will be powered by 100% wind energy.
Facebook's new Iowa data center also runs completely on wind, showing steady progress toward the ultimate goal of using 100% renewable energy. It uses 25% now.
"Like its predecessors, we expect Fort Worth to be one of the most advanced, efficient, and sustainable data centers in the world. Our continuing work on data center design is an important part of our overall infrastructure efficiency efforts, which have helped us save more than $2 billion in infrastructure costs over the last three years," says Facebook.
"Thanks to our continued focus on efficiency and our investments in renewables in recent years, the carbon impact of one person's use of Facebook for an entire year is the same as the carbon impact of a medium latte." That's an amazing statement considering how much energy your average data center consumes.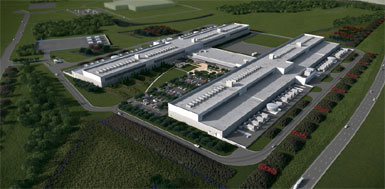 The $1 billion, 1.2 million square foot Fort Worth data center (and offices) will run on 200 megawatts from a nearby wind farm being developed to serve it.
"We also recognize that we all need to work together to ensure that our industry is more efficient and more sustainable over time. That's why we openly share our designs for our data centers through the Open Compute Project, which now has more than 200 members and thousands of participants, all collaborating on the development of efficient and sustainable data center technologies," says Facebook.
Last month, Google announced its next 100% renewable energy-powered data center will be built on the grounds of a coal plant that's about to close.
(Visited 3,712 times, 14 visits today)