The US now has the three largest solar plants in the world, all over 500 megawatts (MW).
Solar Star, which just came became fully operational in California's Antelope Valley, is the biggest at 579 MW. BHE Renewables owns it and SunPower built it using 1.7 million of its single axis tracking PV panels. It will power 255,000 homes.
Although it covers 3200 acres, it was planned and sited in a way that protects native plants and wildlife, says Sierra Club. Its on degraded farmland with easy access to existing transmission lines.
The other two are:
Topaz Solar Farm: 550 MW, in San Luis Obispo County, California. It is also owned by BHE Renewables – the new name for Berkshire Hathaway Energy's renewable arm – formerly called MidAmerican Renewables. It is also built on 3200 acres of disturbed farmland.
Desert Sunlight: 550 MW, near Palms Springs, CA., and owned by NextEra Energy, GE Energy Financial Services, and Sumitomo Corporation of America.
First Solar developed Topaz and Desert Sunlight, with 8-9 million thin-film solar panels each.
These and other huge solar plants helped solar provide 1% of all US electricity last year.
15 gigawatts of utility-scale solar PV is under development in the US, all of which comes online this year or next, according to GTM Research. These projects are much smaller, mostly around 100 MW.
The SunPower® Oasis® Power Plant
SunPower has developed a turnkey method for building utility-scale solar quickly and efficiently, using modular, high density "blocks" of PV panels. Blocks are designed to maximize energy output and follow the contours of the land for optimal energy production.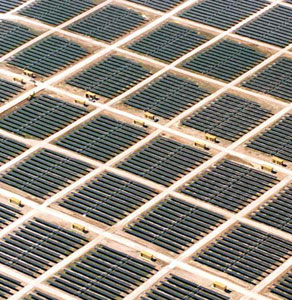 Each module has a single-axis tracker, smart inverter station, and a tracking control and monitoring system. Because the design is so efficient, SunPower is able to minimize the amount of land projects cover.
Because robots clean the panels, only 1/2 cup of water per panel is needed, versus five for manual methods.
(Visited 3,268 times, 1 visits today)